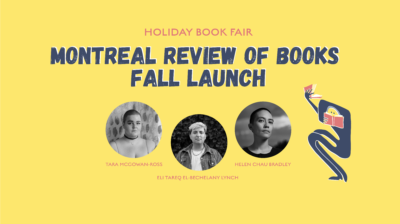 The Montreal Review of Books team is thrilled to invite you to the launch of our Fall Issue. Join us for readings and conversation with Tara McGowan-Ross, Helen Chau Bradley, and Eli Tareq El-Bechelany Lynch.
Tara McGowan-Ross is an urban Mi'kmaw multidisciplinary artist and writer. She is the host of Drawn & Quarterly's Indigenous Literatures Book Club, a critic of experimental and independent Montreal theatre, and an editor for Insomniac Press. She is the author of Girth and Scorpion Season. Tara lives in Montreal.
Helen Chau Bradley is a writer and musician living in Tiohtià:ke (Montreal). Their writing has appeared in carte blanche, Cosmonauts Avenue, Maisonneuve Magazine, the Montreal Review of Books, and elsewhere. They are the author of Automatic Object Lessons, a poetry chapbook. They are the Fiction Editor for This Magazine, and the host of Strange Futures, a speculative fiction book club. Personal Attention Roleplay is their first book.
Eli Tareq El Bechelany-Lynch is a queer Arab poet living in Tio'tia:ke, unceded Kanien'kehá:ka territory. Their work has appeared in The Best Canadian Poetry 2018 anthology, GUTS, Carte Blanche, the Shade Journal, The New Quarterly, Arc Poetry Magazine and elsewhere. They were longlisted for the CBC poetry prize in 2019. You can find them on Instagram and Twitter @theonlyelitareq. Their book, knot body, was published by Metatron Press in 2020, and their latest book, The Good Arabs, was published by Metonymy Press in September 2021.
Read more about and purchase a copy of Personal Attention Roleplay by Helen Chau Bradley, The Good Arabs by Eli Tareq El-Bechelany Lynch, and Nothing Will Be Different by Tara McGowan-Ross. Copies will also be available for purchase at the launch, where the authors will be available to sign books.
In-person event details: Space is limited; first come, first seated. Vaccination passports, photo ID, and masks will be required. Doors will open at 6:30 pm, please use the Atwater Avenue entrance.
Live streaming details: The event will be live-streamed on our Facebook, Twitter, and YouTube accounts, no prior registration is required. Tune in to the platform of your choice at 7 pm on November 16, 2021, to view and participate in the Q&A via the chat function.