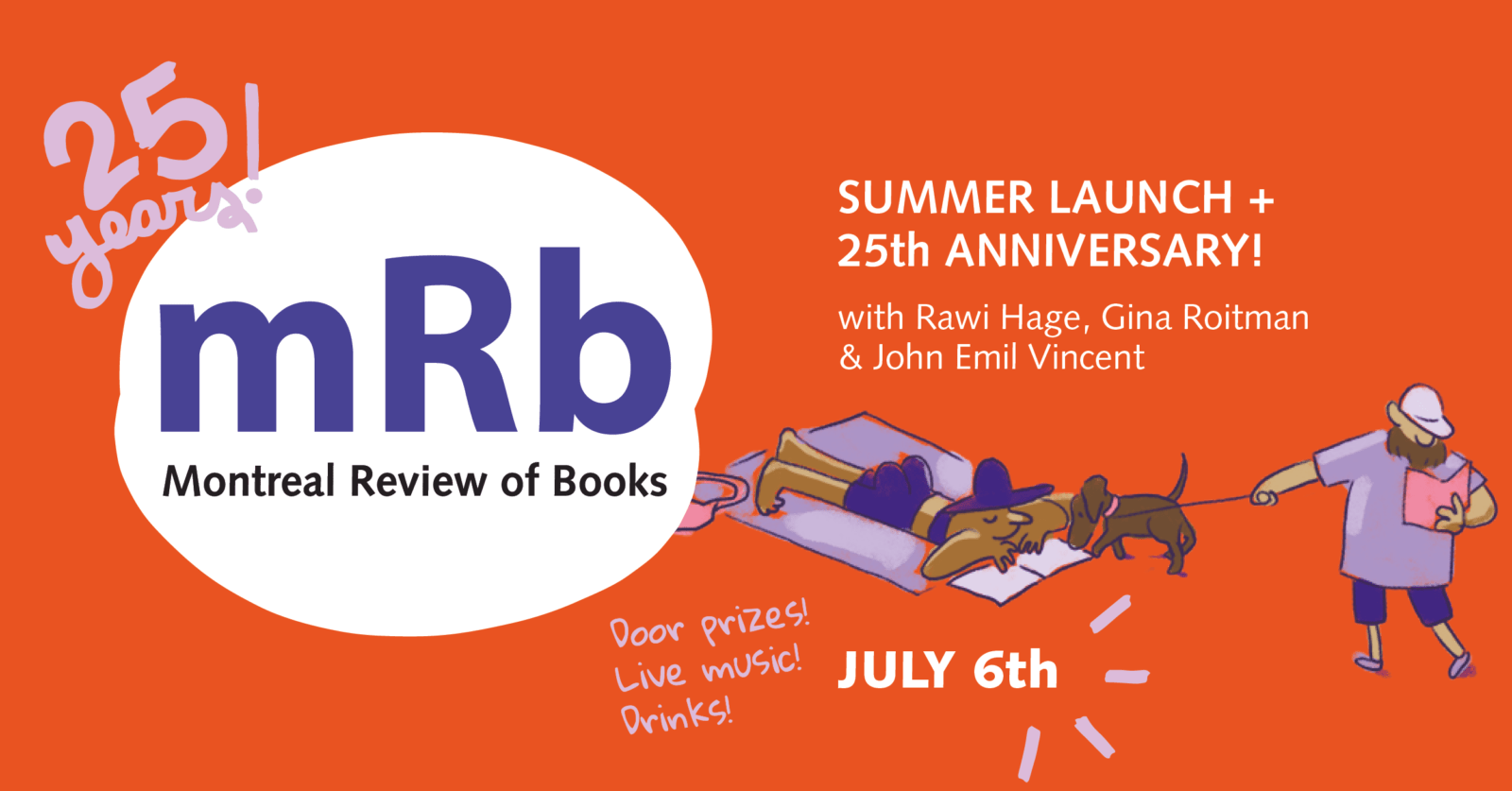 This year, the mRb turns 25! To celebrate this milestone, we're pleased to invite you to our summer issue launch and 25th anniversary celebration on Wednesday, July 6th, at the beautiful Cardinal Tea Room in the Mile End. Doors will open at 6:30pm, readings will begin around 7pm.
There will be refreshments, readings by authors Rawi Hage, Gina Roitman, and John Emil Vincent, a live performance by pianist Jeff Louch, and door prizes for the first 50 guests to arrive. Rawi Hage's Stray Dogs, Gina Roitman's Don't Ask, and John Emil Vincent's Bitter in the Belly will be available for purchase and signing on site, in partnership with Paragraphe Bookstore. 
A few accessibility notes – the Cardinal is located on the second floor and accessible only via stairs. Please email if you need assistance with the stairs and we would be happy to help. For those who can't join us in person, watch the livestream on our YouTube channel.
We thank you for your continued support of the mRb, and look forward to seeing you there! 
* * *
RAWI HAGE was born in Beirut, Lebanon, and lived through nine years of the Lebanese Civil War during the 1970s and 1980s. He immigrated to Canada in 1992 and now lives in Montreal. His first novel, De Niro's Game, won the IMPAC Dublin Literary Award for the best English-language book published anywhere in the world in a given year, and has either won or been shortlisted for seven other major awards and prizes, including the Scotiabank Giller Prize and the Governor General's Literary Award. Cockroach was the winner of the Paragraphe Hugh MacLennan Prize for Fiction and a finalist for the Scotiabank Giller Prize, the Governor General's Literary Award and the Rogers Writers' Trust Fiction Award. His third novel, Carnival, told from the perspective of a taxi driver, was a finalist for the Writers' Trust Award and won the Paragraphe Hugh MacLennan Prize for Fiction. And his most recent novel, Beirut Hellfire Society, was long-listed for the Scotiabank Giller Prize and shortlisted for the Writers' Trust Fiction Prize. His work has been translated into thirty languages.
A former travel media consultant, communications agency principal and penguin herder, GINA ROITMAN is the author of Tell Me a Story, Tell Me the Truth, nine linked short stories and co-author of a biography about a globetrotting Montreal businessman: Midway to China and Beyond. Gina's essays, short stories and poems have appeared in a number of anthologies including: Wherever I Find Myself, The New Spice Box, and Undead: A Poetry Anthology. In 2013, the award-winning documentary film My Mother, the Nazi Midwife and Me, co-produced with Jane Hawtin, began a two-year run on CBC's Doc Channel. She has also written and voiced two radio documentaries for CBC Radio and was commissioned to write several biographies of Holocaust survivors, also for San Francisco's Pink Triangle Project, a poem to accompany original music. Since 2015, she has led numerous memoir-writing workshops. Don't Ask is Gina's first novel.
JOHN EMIL VINCENT has written several books including Excitement Tax (shortlisted for the QWF first book award), Ganymede's Dog, and Bitter in the Belly. MQUP will publish his next, The Decline and Fall of the Chatty Empire, in the coming year. He lives in Montreal.