My earliest exposure to Montreal's literary scene came in the late 1990s, when, as a new arrival to the city, I started going to YAWP!, the spoken word/performance poetry/live music series hosted at various venues around town. Several of these events happened at Bistro4, an unassuming bar on Saint-Laurent around the corner from the apartment where I experimented with Stoicism and made my own soy milk.
There was edgy spoken word from ardent disciples of Ani DiFranco; there were melancholy poems about breakups and the drudgery of service work; there was Jake Brown in purple underwear smearing himself with ketchup. There were performances by Alexis O'Hara, Elizabeth Anka Vajagic, Ian Ferrier, Heather O'Neill, and many more writer/performers who continue to make up the cultural fabric of Montreal today.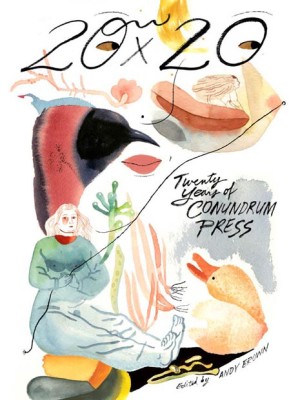 20×20
Twenty Years of Conundrum Press
Edited by Andy Brown
Conundrum Press
$20.00
paper
240pp
9781772620023
I knew about these events because of the posters around the Plateau – psychedelic black-and-white assaults on the eyeballs, figures that looked like sentient blastomas or post-apocalyptic mutant bunnies. This was the work of Billy Mavreas, one of several nodes in a network of people who were responsible for nurturing and maintaining an underground art scene in Montreal. Mavreas's friend and roommate Andy Brown had recently founded Conundrum Press, which would go on to put out the work of many writers who performed at YAWP!, as well as work by comic artists, illustrators, poets, memoirists, and creators who are pretty much unclassifiable. Conundrum would become a fixture in the Canadian indie press landscape and would continue to discover, nurture, and publish young, independent, boundary-breaking artists and writers for two decades. But I didn't know that yet. I was just watching the ketchup fly.
Twenty years later, Conundrum Press is still a mainstay of independent culture in Montreal and beyond. To celebrate this remarkable achievement, Andy Brown tasked himself with anthologizing the press in a single publication: 20×20, a scrapbook of sorts, wherein Brown asked twenty artists each to take on one year the press has existed and represent it however they thought best.
For the year 1997, the press's second in existence, the aforementioned Mavreas includes his poster works and a glossary of some of his recurring visual motifs, as well as marginalia that give us insight into his process (and mental state?) at the time. In addition to showcasing a few of his genre-defying books (You Are A Cat!, Serial Villain), Sherwin Tjia (2015) lets us in on the books Andy Brown wouldn't publish, including a guidebook for how to destroy the world and a revision of PEI's favourite plucky urchin tale called Slut of Green Gables. Shary Boyle (2004) contributes a set of unpublished drawings, David Collier (2016) and Meags Fitzgerald (2014) offer comics about being comics artists, and Philippe Girard (2011) and Dakota McFadzean (2013) contribute comics about other subjects entirely. There are autobiographical essays from writers Catherine Kidd (1996) and Maya Merrick (2005) that touch on the creative process and its relationship to time and work. And, as any yearbook should have, there are many caricatures, mostly of Andy Brown.
20×20 is a fascinating archive – and a beautiful object, with cover art by Jillian Tamaki – not only because of the diversity and uniqueness of the work it showcases, but in terms of the perspective it offers on what I can only, and inaccurately, call a "scene." It lets us in on the muddy, sometimes fruitful, sometimes tense, generally mutually beneficial relationship between writers, artists, publishers, friends, lovers, frenemies, and bartenders, and how it takes all of the above, plus dedication and resilience, to make culture happen.