Sam is a big grey pit bull with a pink collar, because "she's a girl." And she's all Mathieu has left – until she disappears from outside the Couche-Tard while he's inside buying smokes and beef jerky. The plain kind, so he can share with her. She doesn't like the spicy stuff.
Sam's disappearance is the still point around which Sophie Bienvenu's affecting short novel unspools, with Mathieu's life unwinding in all its love and heartbreak from page to page. Opening literally on the street, where Mathieu and Sam are sleeping rough outside a burnt-out fabric store on rue Masson, Bienvenu jumps immediately to a childhood flashback, and with these two scenes, skilfully begins to build the story of how Mat ended up homeless, and why he needs Sam so badly.
As is often the case with those who fall far outside society's comfort zones, Mathieu has more than his fair share of misfortune, some of which comes as a result of his struggle for love and belonging. Among the strengths and the pleasures of Searching for Sam is Bienvenu's going against the stereotype of the homeless person who is on the street because they are unable to maintain social and affective connections. Mathieu has a community around him, and those of his connections that have broken mostly didn't do so because of him.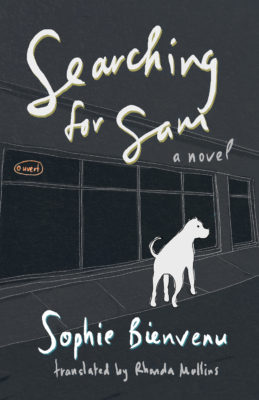 Searching for Sam
Sophie Bienvenu
Translated by Rhonda Mullins
Talonbooks
$16.95
paper
144pp
9781772012460
In this portrait of Mathieu's community – "Guy, the dude from the dépanneur," Max, who busks in the Joliette metro, the old guy with the baseball cap – Bienvenu helps readers to see what many of us walk past and remain unaware of: a society that exists outside the mainstream, not physically but conceptually. And by telling one of its stories, she affirms that these are just as valuable as those inside society's margins.
The chapters of Searching for Sam are short, and they jump back and forth between different events in Mat's life, but are easy to follow because Bienvenu's writing is so clean. Although it takes a while for the story to gather speed, once the major events are laid out, it moves pretty quickly. The accumulation of unhappy circumstances and extremely bad luck in Mathieu's life is almost contrived at times, although the emotional tone is steady and always believable. The ending is also a tad convenient, but the author has done such a beautiful job of making the reader feel attached to Mathieu that the tender and redemptive final scene is welcome nevertheless.
The English version by Rhonda Mullins, winner of a Governor General's Award for translation, is fine and clear. Although neither the original French-language edition nor the English one is marketed as a young adult novel, it would be a good read for a teen, given the clarity of the language and its subject matter.
The Mathieu who is searching for Sam is an echo of a real-life Mathieu, whom the author knew in the Rosemont neighbourhood where the book is set. Mathieu Gaudreault also had a pit bull, was also homeless, and shared a few other biographical details with Sam's Mat. Sadly, the real-life Mathieu died in a car accident, and was paid tribute by the neighbours who were his community. The Mathieu of Sophie Bienvenu's book, on the other hand, along with Sam the pit bull, will live longer on the pages of this sad, sweet, ultimately hopeful tale. mRb