To beckon is to entice, to draw someone in. It may be an act of deception, but it is not an act of coercion. When someone is beckoned, he responds willingly. That is the difficult reality that lies at the heart of Matthew Murphy's debut novel, A Beckoning War.
Captain Jim McFarlane serves in the Canadian infantry and is stationed in Italy in 1944 as the Allied forces advance. While the novel painstakingly chronicles his experiences on the front lines, it spends nearly as much time reconstructing the period before the war in order to explore McFarlane's decision to enlist, and the consequences of that decision for his marriage. Through these flashbacks and recollections, readers learn that rather than creating security, his privileged background as the son of a physician and his comfortable living as a schoolteacher left him dissatisfied. Despite the objections of his wife Marianne, he enlists, and eventually finds himself overseas battling the Axis powers.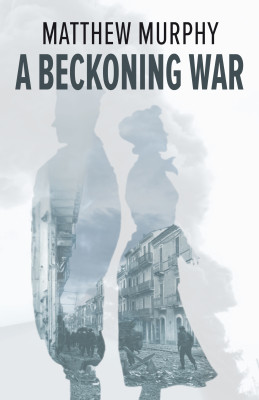 A Beckoning War
Matthew Murphy
Baraka Books
$24.95
paper
334pp
9781771860680
Confronted by the grotesque realities of war, McFarlane must reckon with that fateful decision and how it may determine not only whether he lives or dies, but also what kind of life he will return to if he does survive. The clearest encapsulation of this comes late in the novel, rendered in the lyric, stream of consciousness prose that dominates the final chapters as McFarlane struggles to maintain his sanity: "why oh why did you do it really why did you do it why did you leave what is the reason really?"
The question "what is the reason really?" haunts not only McFarlane's decision to volunteer for action, but also the entire representation of a war that increasingly seems meaningless to the men being ravaged by it. In one of the most chilling passages, McFarlane scratches his head, prompting a cascade of dandruff to fall to the ground, and transforms this mundane moment into a macabre omen: "The earth is content with shed hair and skin in the knowledge that after these dainty hors d'oeuvres, these appetizers, will indeed come the main course." That, under these circumstances, individuals can come to seem little more than meat to be consumed is a reality Murphy forces his readers to confront over and over with unsparing and unflinching descriptions of battlefield carnage. At the same time, the tedium and restlessness of wartime is vividly evoked. As the scenes set in Italy alternate descriptions of waiting to die and actually dying, the retrospective narration of how and why McFarlane ended up there becomes all the more poignant.
Beckoning is also a term that tends to carry nuances of seduction and that makes it apt for a novel in which a shadowy love triangle is formed between Jim, Marianne, and the allure of the far-off conflict. Marianne repeatedly figures the war as a rival and a threat to their marriage, and McFarlane's torment is not the oft-represented longing for a stoically faithful beloved. Rather, as his recollections and Marianne's letters to him make clear, his marriage has been profoundly damaged and may prove to be another casualty.
It is this choice to frame the experience of war through the consequences it might have for one's connection to others – not just one's body and psyche – that distinguishes Murphy's novel, taking it beyond an adept representation of battlefield horrors. Even as readers are gripped by the desire to know whether McFarlane lives or dies, they also know that the first losses took place before he ever entered the battlefield, when he found himself enticed by a war there was no way to understand without experiencing. The question of why he answered its siren call remains almost impossible to answer. mRb