IIn his introduction to A View from the Porch, Avi Friedman espouses his "firm belief that homes and neighborhoods are first and foremost about people." This view unites the collection of twenty-two essays, and makes his subject – the often-rarefied spheres of architecture and design – highly accessible.
A McGill architecture professor, Friedman has received numerous honours, including the United Nations World Habitat Award, and, in 2000, he was on Wallpaper magazine's list of ten style setters who will "most influence the way we live." He is also a prolific author with sixteen titles to his name. A View from the Porch is actually a revised edition of Friedman's 2005 book Room for Thought, though with the exception of an additional chapter, the revision appears to be fairly light (for example, faxes are still referred to contemporaneously).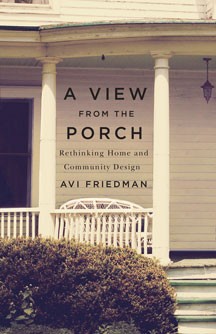 A View from the Porch
Rethinking Home and Community Design
Avi Friedman
Véhicule Press
$20.00
paper
240pp
9781550653991
The essays range widely across what makes homes, neighbourhoods, and cities liveable. The dominant theme, however, is Friedman's criticism of low-density living, particularly sprawling suburban developments lacking human scale and distinctive features. The negative consequences of North America's ever-expanding homes (which he notes have doubled in size over the past half-century, even tripled in most markets) include limited accommodation suited to increasingly small and diverse households; the decline of vernacular style and handcrafted details, in part due to mass production; and the loss of "active living principles," which are the subject of this edition's new essay, "Cities as Exercise Machines."
The flip side of these criticisms is his championing of higher-density living, such as in Europe, and Montreal's inner city. Here, streetscapes have the scale and individuality that make people feel comfortable, and amenities including shops, parks, and public transportation are within a short walk, facilitating both health and community interaction. It is an old but successful model that "needs to be encouraged," according to Friedman, who also proposes modern enhancements such as urban community gardens and exercise equipment in parks.
Friedman's tone is generally measured, but not without moments of passion. In decrying the homogenization of housing design, from Canada to China, for example, he asserts that, "architectural vocabulary is no different from endangered animal species or minor languages." There are also flashes of humour, including his observation that house facades dominated by double- and triple-garages look like a carwash.
A View from the Porch is very readable, despite numerous typographical errors. The use of American spelling – a surprising choice for a Montreal author and publisher – may also distract. But there's no jargon, the arguments are clear and cogent, and, by inserting himself into every essay, Friedman makes his text all the more approachable. It's a tactic generally employed with effective restraint, though an essay detailing the anxieties of buying his first home seems more self-indulgent than illustrative.
Otherwise, whether approaching this material for the first or second time, in the comfort of a small inner-city apartment or a large suburban house, readers will likely find A View from the Porch relatable, informative, and thought-provoking.