It's not easy to find books in English for young adults that shine a literary light on the colourful history of New France. A recent translation from French of Martin Fournier's Governor General Award-winning The Adventures of Radisson: Hell Never Burns sets out to fill the gap.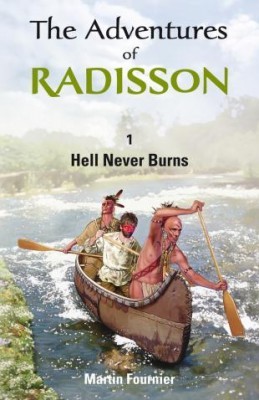 The Adventures of Radisson
Hell Never Burns
Martin Fournier
Translated by Peter McCambridge
Baraka Books
$19.95
paper
228pp
978-1-926824-54-3
Hell Never Burns
is part one of Fournier's exploration of Pierre-Esprit Radisson's life. His English publisher Baraka Books calls
Hell Never Burns
a historical thriller, and the description rings true. There are generous helpings of blood and gore starting with Radisson's initial capture and torture by the Iroquois, moving on to the murderous attack he inflicts on two young Iroquois who have befriended him, and then on to his participation in assaults against the Erie people where he enthusiastically hacks away at defenseless men and women.
Radisson is a complex figure and Fournier effectively depicts the struggle the young man feels when he is torn between two cultures. Pierre-Esprit Radisson came to Quebec from France
at fifteen years old. He was captured and then adopted by the Iroquois, but returned to live in New France as a European. Radisson, like many of the early traders who came to the New World, thoroughly enjoyed the freedom and adventure of the Iroquois way of life, but was ultimately more inspired by the idea of becoming a successful trader and the promise of the big profits to be made from the fur trade.
Radisson's passion for trade is unquestioned. He and his brother-in-law Médard des Groseilliers were responsible for the creation of the Hudson's Bay Company, which will be covered in Fournier's second instalment of the biography. Whether we deem that this character from the past was admirable or not, Fournier has provided us with something we don't see very often: the literary portrait of a historical figure from early Quebec especially for the young adult reader.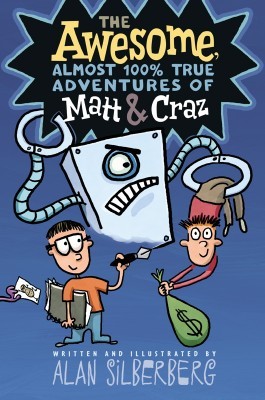 The Awesome Almost 100% True Adventures of Matt & Craz
Alan Silberberg
Aladdin
$19.99
paper
336pp
978-1-4169-9432-9
Writer and illustrator Alan Silberberg's last book for young adults, Milo: Sticky Notes and Brain Freeze, managed to take a heartbreaking subject – the death of a mother – and treat it with compassion, truth, and, above all, humour. That book won him, among other accolades, the Sid Fleischman Humor Award and the QWF Prize for Children's and Young Adult Literature.
This latest book by Silberberg takes a lighter look at the issue of early adolescent angst. Still, the thirteen-year-old protagonists Matt and Craz have some difficult issues to deal with at home. Matt's parents are separated and his older brother Ricky has decided that it's more fun to humiliate Matt than to treat him as a best friend like he used to do. Craz lives in a house filled to bursting with siblings, and his parents spend all their energy just trying to get something possibly edible on the table. School also presents its trials and tribulations. Matt has the potential to be a good student but he is preoccupied with his troubles at home and perpetually distracted by his hobby – drawing cartoons. Craz's life is so chaotic and messy that it's a miracle he makes it to school at all. And when he does, his brain and body bounce around like a Ping-Pong ball on steroids. Their social lives are equally unsatisfactory, especially for Matt who pines for the illusive and alluring Cindy Ockabloom.
In a lot of ways, Craz and Matt are opposites – Matt is dreamy, serious, and anxious; Craz is off-the-wall and out-of- control. What the two boys share is an obsession for cartooning. That obsession and their unlikely friendship is what this book is about.
For months Matt and Craz have been trying to get one of their cartoons into the school paper. But despite their best efforts – "Butt Ugly Bob," "The Adventures of Mary the Meatball Sub," "Melvin Gerkin Pickle Boy" – the dictatorial student editor Skip Turkle rejects and humiliates them over and over again. Matt and Craz are on the verge of giving up when they stumble upon the Draw Better Now website and the magical Boyd T. Boone. From that moment on Matt and Craz find themselves in possession of a pen and ink that can make their wackiest thirteen-year-old fantasies come true.
Silberberg happily indulges his protagonists' desires. The magic pen turns annoying older brothers into obsessive house cleaners, makes Craz's favourite superhero into his new buddy, gets Matt a date with Cindy Ockabloom, and sends Mrs. Bentz, the worst English teacher in the world, on an extended holiday to Treasure Island. Of course things backfire, a magic pen and ink can produce unexpected and unwanted results after all, but Matt and Craz have a lot of fun in the process – and we do, too. In the end, even if they drive us crazy sometimes, the boys also learn something about friendship and the importance of accepting differences.
Moominvalley Turns Jungle
Tove Jansson
Drawn & Quarterly
$9.95
paper
37pp
978-1-77046-097-3
Finns and Canadians have some things in common: we have a similar climate, we've got a lot of fish and forests, and we love hockey. But the Finns have the genius of Tove Jansson and the world of Moominvalley.
We have Drawn & Quarterly to thank for bringing two more of Jansson's Moomin stories to North America. How fortunate we are to have access to Jansson's unique vision and to her world filled with wry wit, cynical intelligence, and wonderful illustrations.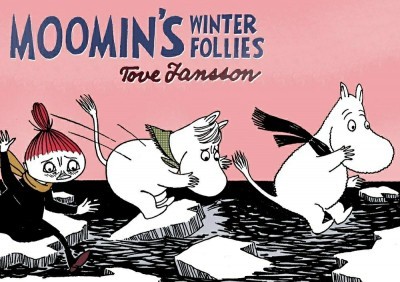 Moomin's Winter Follies
Tove Jansson
Drawn & Quarterly
$9.95
paper
45pp
978-1-77046-098-0
These two new Moomin books,
Moominvalley Turns Jungle
and
Moomin's Winter Follies
, are both released for the first time in soft-cover and in full colour.
But be forewarned, if you're in the market for gentle tales with politically correct lessons for the little ones, a trip to Moominvalley is not for you. In Jansson's stories bad things happen to good Moomin, good Moomin do bad things, and all sorts of scary scenarios are offered up for our perusal and pleasure. In Moomin's Winter Follies, Jansson invites us to laugh without guilt as we watch the spurned Moomin uprooting a tree, pointing its jagged roots at the annoyingly macho Mr. Brisk, and declaring, "There will be no peace among our women if I don't KILL HIM!!" And to snicker when in Moominvalley Turns Jungle, Snork Maiden urges Moomin, who is hanging onto a tree vine getting ready to jump, "Hurrah, just like Tarzan. Come and abduct me."
The Moomin books manage to achieve the Holy Grail of children's literature: they appeal to the kids, but entertain and amuse the parents as well. We have Tove Jansson, the Finns, and Drawn & Quarterly to thank for that.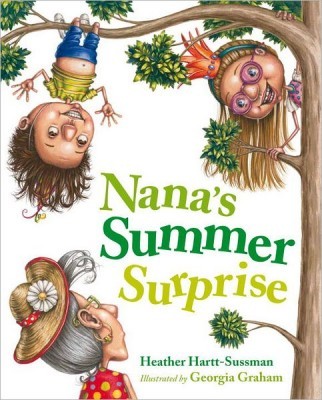 Nana's Summer Surprise
Heather Hartt-Sussman
Illustrated by Georgia Graham
Tundra Books
$19.99
cloth
32pp
978-1-77049-324-7
Two new books written by Heather Hartt-Sussman have been published by Tundra Books. The first, Nana's Summer Surprise, is the next instalment in the Nana Series. This time the book's protagonist – otherwise known as Nana's grandson – must contend with a summer spent at the cottage with Hortense – otherwise known as Gramp's granddaughter. The two young people have met before, but over the months since that last meeting Hortense has transformed from child to teenager, and the changes don't impress the grandson in question. It looks like the summer is going to be the worst ever with Hortense spending all her time painting her toenails and talking about boys, and our young protagonist getting a headache from all the girlie stuff. Ultimately, their shared love for Nana brings the two young people together and results in the best surprise birthday party ever. As always, Nana is an inspiration for grandparents everywhere with her boundless energy and zest for life. Georgia Graham's illustrations do the job of bringing Nana's crazy outfits to life and drawing Hortense's gangly growth-spurted body and pimple-flecked skin in all their adolescent glory.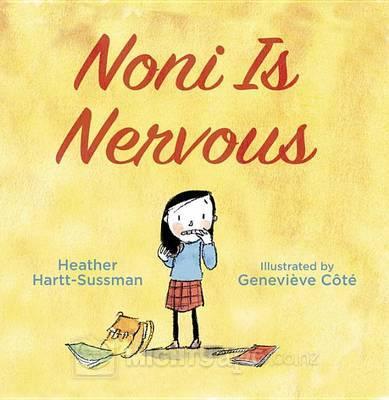 Noni Is Nervous
Heather Hartt-Sussman
Illustrated by Geneviève Côté
Tundra Books
$19.99
cloth
24pp
978-1-77049-323-0
Noni is Nervous
is a story about one of the landmark moments in every five-year-old's life. The first day of school is enough to make anyone nervous and someone like Noni, who worries about things like global warming and play dates, is having a hard time. Her parents and her little brother try to help but it's just no good. Eventually, Noni works up the courage to talk to the little girl who sits next to her on the school bus and before you know it, school is nothing to be worried about after all. Geneviève Côté's simple yet impressively skilful watercolour and pencil drawings express perfectly Noni's journey from anxiety to ease. 
mRb