Some readers of Bill Haugland may remember him from his tenure (from 1961 to 2006) as a journalist and reporter at CFCF-TV in Montreal. His profession has, evidently, given him the chops to shape a story succinctly and with empathy. His first two novels, Mobile 9 and The Bidding, are devoted to crime, danger, and mystery as experienced by his main character, television reporter Ty Davis. After the Rain is Haugland's first short story collection, and each story skilfully builds suspense.
Haugland develops stories that could easily be drawn from sensational evening news headlines. His depiction of the struggles and heartache experienced by his characters is nicely done. Some of these characters lead lives of solitude and loneliness; others are challenged by physical disability, abandonment, abuse, or broken marriages. In most cases, the characters overcome these struggles by following a deep connection to their intuition or to otherworldly messages. Stories such as "The Wish Jar," "41 Ward B," and "The Photograph" use this leitmotiv; a recurrent theme that is often wholesome and shows us that we are not alone.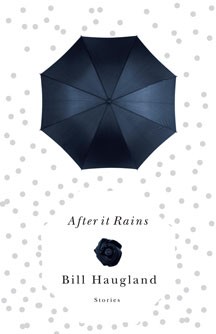 After It Rains
Bill Haughland
Véhicule Press
$18.00
paper
224pp
9781550653557
 The title story in this collection serves as the archetype of this motif. Fifteen-year-old Craig is in high school and is visually impaired. He is imbued with the gift of an extraordinary sense of smell and hearing, as well as the ability to describe objects and people in great detail using these gifts. He can read the auras of others, especially immediately following a rainfall. After Craig and a friend are put in harm's way when witnessing the fallout of a murder, Craig's premonitions and fierce connection to his gifts enable him to help solve the crime. Here, the underdog, who is gentle and straight-shooting, comes out a winner.
Unfortunately, character development sometimes suffers. In this example, the 15-year-old boy speaks to his mother and friend in a voice more akin to a mature, reflective, and responsible young adult than a teenager. While Craig in particular may be older and wiser than his years, there are other instances in the book where this occurs. Unfortunately, a strong narrative voice, which tells the story in a fashion akin to reportage, weighs more heavily than the character at hand. Likewise, dialogues could be developed further to represent a variety of everyday speech rather than polite English.
Take for example, the relationship between married couple Jenny and Steve Clampton in "Till Death." When he physically abuses her, she writes him a letter urging him to "seek help." This word choice is better suited to someone giving advice than to someone experiencing the kind of fear and anguish that must be involved for an individual to leave their partner.
Other stories in the novel follow a different trajectory. Some, as in "Confession," or even "Till Death," include the perspective of the antagonist. Others, such as "Stringers" (surely at least semi-autobiographical as it is about two freelance news reporters) are fun to read because of the action and humour. Haugland is at his height in stories such as that one, "Wishing Jar," and "Family Finances." The atmosphere in these pieces is rendered with humour and care.
To read After the Rain is like having the inside scoop on the multitude of news reports Bill Haugland delivered throughout his career. This collection is for fans of crime and mystery novels, perfect for a rainy day read.