"He stepped over the fence, ducked in behind the trees and stood looking up through the branches as if he had never met himself."
This is Brian, recently divorced, and presently locked out of his car, anti-hero of a story from the standout first collection of Alice Petersen. From the reader's vantage, the book hinges on characters meeting themselves. What makes All the Voices Cry hold our attention is that the characters can't see it – most seem to feel they've either been stood up at a defining moment, or that they are the no-shows. 
Petersen herself comes across completely at ease, open and welcoming. Ten seconds into our first conversation, she has asked me up to her place in the country, offered me a place to stay, and invited me along on her favourite hikes. Her cobwebby accent is soft, and she is disarmingly candid – about both her literary process and her personal map. After deciding not to pursue an academic career, she confesses, "like the art historian who fancies herself as an artist, I had to learn to write from the beginning." There is nothing hiccupy in these stories, perhaps because of the genuine pleasure Petersen seems to derive from the creative spark: "I like starting with a small thing – a plant that fascinates me, like corpse weed, or a scrap of graffiti. Then I interrogate the object until I get a human story to attach to it."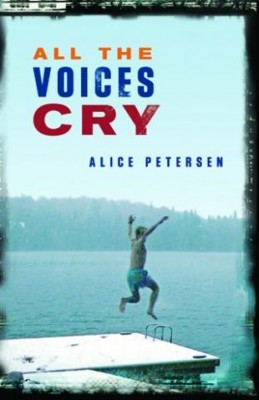 All The Voices Cry
Alice Petersen
Biblioasis
$19.95
paper
160pp
978-1-926845-52-4
 Our friend Brian, in "Champlain's Astrolabe," stumbles upon a piece of metal in the woods – just junk, but it calls to mind the eponymous explorer's lost apparatus, found in a farmer's field in the mid- nineteenth century. "Poor Champlain," Brian muses, "vertiginous with anxiety as the pole star came up and he found himself in a land whose known reach extended no further than the length of his extended arms."
"I wanted to write a story about losing your astrolabe, or living in an era where you have to constantly invent your own astrolabe," Petersen says, herself no stranger to following her pole star: she crossed the globe from her native New Zealand in 1994. First landing at Queen's University, Petersen eventually followed her Montrealer husband to La Belle Province. Before migrating, she says, other than Anne of Green Gables, "all I knew of Canada as a child was a TV program called The Beachcombers." There is little more Canadian than Relic and Jesse Jim; then Petersen out-Beachcombered herself, building a log cabin in the Mauricie, where much of the book takes place. We are brought again and again to a fictional Lac Perdu, where dead husbands are mourned and their ashes scattered, fathers are relinquished to their adult lives, promising new love founders. Place is a character more than a mere backdrop, and Petersen's quiet, patient enracination is obvious. "The stories set in Quebec were part of my digging into the country, putting down personal roots by turning what I saw around me into stories." After years of spending summers and weekends at the cabin, she has now settled there permanently, to see, she says, "how it is to live in the forest."
In All the Voices Cry, the landscape provides freedom from social or identity problems – from the dripping ferns of northern Quebec to the Otago seascape in "Neptune's Necklace," which is peaceful even as it provides an oblique piece of capital-h history.
I make a reference to her fellow literary country- woman, with utterly complimentary intentions, and Petersen balks (very politely not pointing out that I am being completely reductive): "all New Zealand writers have to deal with the ghost of [Katherine] Mansfield." There is something Mansfieldian about these stories, though Petersen's are more sparely peopled and the suggestion of possible resolution is whipped away at the last moment. The characters are kept in the dark, while the reader gets the benefit of knowing where the story's going.
Where the stories in All the Voices Cry are going is secondary to the grasping, the almost- reaching, for a change in destiny: a woman, well-behaved for decades, comes tantalizingly close to abandoning her husband in Tahiti; a young mother from a more traditional era allows herself a fling with a handsome young medical intern; a professor is drawn to and terrified by a former student.
Where the stories in All the Voices Cry are going is secondary to the grasping, the almost-reaching, for a change in destiny … 
Petersen writes unabashedly. Poor professor Colin, for instance, gets a "tenured heart, usually preserved in the dim formaldehyde of ethical behaviour." A step- mother-to-be is described as "a wreath-of-dried-flowers- with-seasonal-bear-on-the-front-door kind of person." A gaggle of artsy hipsters have "beards groomed into neat pubic triangles." Her details are so vivid I ask whether she has a visual arts background (no, although her sister is a painter). The shrines in "Salsa Madre" are dead-on evocative of the haphazard countryside clutter of old claw-foots Virgin-Maried up and then abandoned. Elsewhere, the public at a vernissage are ignoring the art and "living only for the subtle readjustment of the room as each new person entered it."
She is an honest portraitist, and a kind puppeteer, whether she is allowing an old lady a nostalgic car ride back through her youth, befriending a young woman who is taking care of her ailing father, or pointing the way to a embittered daughter looking for a miracle cure. In "Through the Gates," a beautiful, simple story, a distraught couple, Rita and Gord, are hiking on the west coast of New Zealand, a trip they decide to take despite having received bad news, and awaiting more. Petersen explains Gord to me with something akin to filial respect: "He seems like an empathetic, sensible chap to me, not drifting off, but finding out how to solve the problem, looking for a pamphlet with information, starting with a sandwich, for strength."
With the exception of Gord, the men in All the Voices Cry seem to wander – in and out of landscapes, in and out of lives, in and out of attention – while the women are anchored. A lot of her female characters, Petersen concedes, are tethered by marriage, kids, or relationships, "initially chosen and sometimes resented, and lived with or abandoned." But to be anchored, she says, "is more than just being stuck in one place." Petersen's answer reveals the generosity that extends to her craft: "when you write a short story, you really do have to chose whose story it is – and this is the case no matter whose story it is, male or female."
"I can't help wanting good things for my characters, even if they don't get those good things within the scope of the story. I think that's a failing on my part." Hardly. With Petersen as their champion and wrangler, we cheer her characters – yes, way to get laid, Scottish Annie; way to abandon him by the roadside, long-bored Penelope of faculty-wifedom; come on, Colin, don't be a weenie. These characters know a thing or two about escape, the first being its draw, the second, its impossibility. mRb