Alice Zorn's debut novel Arrhythmia is an ambitious, deftly handled exploration of human beings in love. Far from stuttering along as its title might seem to suggest, it seldom misses a beat.
The main character, Joelle, is a former film student who now works as a secretary in the gastro wing of an unnamed Montreal hospital, where her husband Marc is a nurse. When Marc becomes infatuated with Ketia, a Haitian-Canadian girl half his age, Joelle's life unravels. She confides in her best friend, Diane, who, while she loves Joelle, believes her own relationship with her lover Nazim is truer and deeper than Joelle's marriage will ever be. But loving proves a challenge for everyone in this novel. Diane soon has to drop her smugness when she learns that the man with whom she has shared a bed for two years has not breathed a word of her existence to his family back in Casablanca.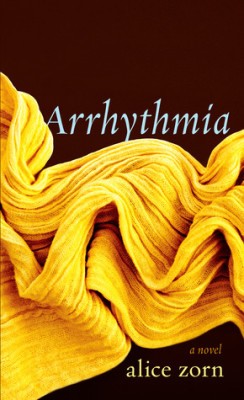 Arrhythmia
Alice Zorn
NeWest Press
$21.95
paper
315pp
9781897126806
Zorn navigates Montreal's cultural communities with ease. Although her central characters' names suggest they are French-speaking, Zorn never settles this matter for the reader. Linguistic affiliation is not all that important in Zorn's grand scheme. Neither is ethnicity. That being said, her description of Moroccan Nazim slipping away from his Québécoise lover's apartment to a café on Jean-Talon "where men congregate with small glasses of coffee or tea before them, the air rancid with black tobacco, faces animated by talk, jabbing the air with their fingers" is poignantly drawn. Nazim tries his best to adapt to Montreal, where people hide away from the cold and also from each other, and where fruit imported from his homeland – dates, tangerines – loses its sweetness before it reaches his plate. But it is not easy. Montrealers almost never make overtures to him. More painfully, Moroccan immigrants to the city refuse to invite him and Diane to their homes as a couple because they are unmarried.
Ketia is also beautifully rendered. Her infatuation with an older, married man and the turmoil that results have universal resonance, which Zorn grounds in detail about Montreal's Haitian community. Although it is never made clear where the "cheap brick apartment block with aluminum-frame windows" in which Ketia and her family live is located, the characters residing there are all believable. Scenes are flavoured with Haitian dishes (gombos, piman bouk and cabri), and dialogue is garnished with bits of Creole. Married men occasionally have a "fam sou koté" (Ketia, for example), and over Christmas, Ketia's street reverberates with cries of "Jwaye Nwel!"
Zorn presents and juggles the thoughts and perceptions of each of her five primary characters so effectively that readers are soon intimate with all of them. Ketia's heady mix of sexual desire and moral confusion is so realistic that the reader sympathizes even as Ketia destroys a twelve-year-old marriage. Arguably the book's least likable character, Marc is also poignant as he struggles with familiar human desires and delusions.
Delusion is everywhere in this novel, which opens in the winter of 1999, the eve of the new millennium. People are obsessed with fears – delusional, it turns out – of cosmic destruction, or at the very least, of their computers crashing. At the personal level, characters keep assuming that they understand their lives and the lives of others, only to be brought up short by the discovery of how clueless they are. Zorn is a master of irony, delighting in exposing all the ways in which people try to fool themselves and others in the unending search for love.
Arrhythmia is a worthy follow-up to Zorn's 2009 story collection, Ruins and Relics. Her topic might be love's perversity, but she manages to let her own love for each and every one of these characters shine through. mRb