Named for its author's hometown, Samuel Archibald's debut short-story collection Arvida is a grab bag of family lore, tall tales, idle boasts, and dark secrets – the kind of stories usually told around a kitchen table or campfire before vanishing into the night air like smoke.
The town of Arvida was built in 135 days in 1927, as a model resource community for the modern world. Three generations later we find an Alcan Eldorado in bad decline. In fourteen wide-ranging stories, Archibald paints an affectionate but unsparing portrait of a mythical milieu where nothing is straightforward: hapless criminals are endearing; what average guys do is chilling to the bone.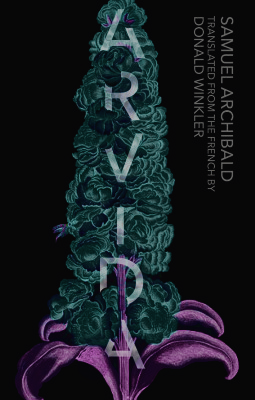 Arvida
Samuel Archibald
Translated by Donald Winkler
Biblioasis
$19.95
paper
300pp
9781771960427
The opener riffs on Proust's madeleine to tease out the meaning of family stories, memory, and desire, themes echoed in the closing reminiscence of learning to write stories on the family Underwood typewriter. "People who know stories can't write them, and people who can write them don't have enough," the narrator tells his father. "It's telling them that's the problem." These meditative pieces bookend the collection, resonating against the others to sketch an approach to the story that elegantly resolves this problem of telling.
A third story in the family vein, "The Centre of Leisure and Forgetfulness (Arvida II)," is a hilarious blow-by-blow account of a 1978 hockey game. The retired Habs who drive to town "in big Buicks, Molsons tucked between their legs" are in for a surprise when the team of local also-rans don't roll over easily. Also on the lighter side are two accounts of spectacular criminal ineptitude. The much darker "Blood Sisters" cycle, told from a female perspective, delves deep into the lasting repercussions of abuse.
Archibald excels at long, fast-paced stories, page-turners with a whiff of genre fiction (one of his academic specializations at UQAM, where he's a professor). "The Animal (Blood Sisters II)" is a drawn-out, harrowing tour de force. The collection's longest and strongest stories are Chekhovian in their structural integrity and moral ambivalence.
"House Bound" is a taut, mean yarn spun by a characteristic Archibald narrator. Fiercely intelligent but emotionally stunted, he lovingly describes every plank and panel of his house but can't find one nice thing to say about his ex. Throughout Arvida, Archibald gives eloquent voice to men most articulate with chainsaws and hunting rifles, men for whom clouds are "swollen with water, like the plastic sheets you hang up over drying wood."
In its original French, Arvida made waves in Quebec, won awards, and sold briskly. (Archibald has since published a novella; a children's book is forthcoming.) No small part of the appeal lies in Archibald's masterful ear and wholehearted embrace of Québécois vernacular, not excluding borrowings from English. In a province where even bathroom stall graffiti is routinely corrected, this is still a big deal. It's also slippery to translate. Perhaps inevitably, certain narrators and characters have lost some of their salt. But translation is an art of mitigating loss. Donald Winkler has given us a tight-knit, readable collection whose best stories spirit us along to the bitter-sweet end. Arvida is an important contribution to Canada's increasingly ebullient translation scene.
A spot on the Giller Prize shortlist suggests a book ready to cross over to English readers. And why not? The larger-than-life Saguenay it depicts – a place where men once logged and mined and their grandkids move away to get educated, or stay behind doing drugs and odd jobs, hemmed in by inscrutable bush and deadly wildlife – kind of sounds like large swathes of Canada. What's outlandish in Montreal may be familiar in Sudbury or Kitimat. The fate of Arvida the town is uncertain: yesterday's Eldorados are today's ghost towns. Arvida the book, like the kind of storytelling it embraces, is made of more enduring stuff. mRb