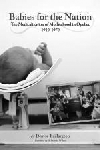 Babies For The Nation: The Medicalization Of Motherhood In Quebec 1910-1970
Denyse Baillargeon
Wilfrid Laurier University Press
$38.95
paper
360pp
978-1-55458-058-3
In Quebec in 1910 women gave birth at home. They rarely had access to prenatal or postnatal care, relying instead on the help and advice of family and friends. By 1970, hospital births and the oversight of doctors had become the norm: traditional knowledge had been supplanted by a "scientific" approach to maternity. Infant care clinics, milk stations, pamphlets, and public lectures were among the tools employed to bring about this change. Denyse Baillargeon maps this dramatic transformation in practices and attitudes in her fascinating work of social history,
Babies for the Nation
.
The primary motivation behind the Quebec medical community's push to supervise maternity was the province's infant mortality rate, by far the highest in the country. This was hardly a new phenomenon, but by the early 1900s it was a source of increasing embarrassment. Physicians hoped to decrease the number of deaths by encouraging women to see a doctor throughout their pregnancy and to give birth in hospital.
The single largest cause of infant mortality was poverty. Most pregnant women could not afford to pay for a doctor's services or follow doctors' advice to eat well and avoid tiring work. Yet physicians – who stood to lose both profits and prestige if state-provided medical care were implemented – generally attributed infants' deaths to mothers' negligence. In the words of one physician in 1916, "It can be said that ignorance, the failure to consult a physician, inattention to the laws of hygiene, the often wilful disobedience of their prescriptions, and prejudice, are the principal factors in infant mortality." Baillargeon convincingly demonstrates how medical discourse was coloured not only by a desire to save lives but also by class interests and a patriarchal world view – doctors frequently come across as arrogant or indifferent.
There were many other reasons for Quebec's high infant mortality rate. Baillargeon draws on an impressive array of reports, medical journals, newspapers, and government publications to shed light on the issue in all its complexity. Among other things, she notes that French-speaking women preferred to wean their children early and switch to bottle-feeding, a risky practice at a time when pasteurization of milk was not yet consistently enforced. Early weaning meant that women had their pregnancies close together. This resulted in large families and left women physically exhausted – and all the more inclined to bottle-feed their children.
The Catholic Church, Quebec nationalists, and even doctors continued to promote large families, despite the attendant problems. A doctor in the 1940s expressed a commonly held fear that French-speakers would be "drowned in the flood of immigration," and that "our only hope of escaping this unenviable fate resides in a growing birth rate and a progressive, significant decrease in our infant mortality."
In the final chapter, Baillargeon deftly weaves oral history into the already rich tapestry of sources marshalled in her study. Drawing on interviews conducted with 66 women, she shows how women responded to the medicalization of maternity. Their words, which add a personal dimension to the book, reveal that women did not passively accept the new medical discourse. Although, over time, they did assimilate the new practices surrounding childbirth, they often followed advice for reasons other than those put forward by doctors.
Babies for the Nation, though an academic text, is rewarding, accessible, and far from dry (with the possible exception of a chapter cataloguing the agencies involved in maternal care). It also has particular relevance at a time when many women are turning to midwives and choosing to have their babies at home – a modern-day challenge to the now hegemonic status of medicalized childbirth. mRb