Running away from a messy breakup in her hometown of St. John's, Marcy moves to Montreal and finds herself untethered. She doesn't have a job, friends, or a place to stay after the end of the month, but she is determined to fit in and carve a life out of a city with more to offer than where she's from. Eva Crocker's Back in the Land of the Living follows Marcy's pursuit of belonging.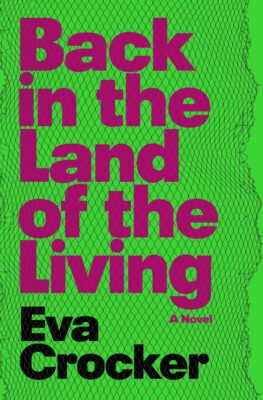 Crocker, also born in St. John's, Newfoundland, and now based in Montreal, uses her latest novel to explore the experience of moving to Montreal from a small city as a queer person in search of more. Marcy is caught between two socially tenuous places: St. John's, a small city with an even smaller queer community, in which a social misstep can lead to ruin, and Montreal, where people are always packing up to go. "That's the thing about Montreal. People leave, Anglo people especially," Marcy's new friend Hannah tells her. Resisting this exodus is a badge of honour that Marcy is determined to attain – moving between apartments in cabs, enrolling in medical trials to pay rent, and hanging onto the coattails of cool people with full lives who have more to do than spend time with her. Her desperation is achingly relatable to anyone who has undertaken the same lonely project of putting down roots. 
Marcy dates to fill the void; "It felt humiliating to admit … that she was filling her free time with internet dates to stave off loneliness," Crocker writes. When Marcy meets Leanne, things get intense fast. Their romance becomes a way for Marcy to legitimize her existence in Montreal, a tether to a city in which she craves belonging. It also becomes a roller coaster of anxiety as Leanne's controlling, angry side comes to light. In part, Back in the Land of the Living is a story about a girl trying to make it in the big city, but within this frame, Crocker also adds another voice to the canon of queer literature about intimate partner abuse, following in the footsteps of Carmen Maria Machado's In the Dream House and Bernardine Evaristo's Girl, Woman, Other. The relationship at the centre of the novel, however, involves a quieter genre of emotional manipulation than the abuse relayed in Machado's memoir, a difference that fuels much of Marcy's internal turmoil. Caught in an anxious loop, she continually second-guesses herself and the nature of their relationship. 
Crocker takes care to situate her writing in a specific contemporary moment, peppering her prose with references to police brutality protests and early signs of the COVID-19 pandemic. The excitement of Marcy's Montreal is underpinned by an all-too-familiar capitalist dystopia, as evident in her remote job sorting phrases to train AI. Marcy finds herself looking forward to categorizing phrases about suicide because they're a reprieve from sorting hate speech. She betrays her ethics and buys sheets from Amazon because she's broke, and listens to YouTube lectures on Mark Fisher's Capitalist Realism. She is caught in an unrelenting capitalist grind that only the pandemic can bring to a halt. When it does, Crocker goes on to explore the power of the pandemic to prolong relationships that seemed on the brink of collapse; "In that first strange month they didn't fight at all," she writes. 
When provincial borders begin to close, Marcy's mom begs her to come home. Leanne invites her on a road trip in a new camper van she bought with money from an injury settlement. The need for Marcy to justify her life in Montreal has never been more urgent. Montreal feels different than Marcy had expected, and in the novel's final pages, her decision to stay or leave becomes a symbol of her independence, a statement about whether she can exist in Montreal on her own and if the life she has built there is worth it. She finds herself at a crossroads: to leave, abandoning the isolation and stress of the city along with her new friends, or to stick it out and keep searching for her queer utopia.mRb