There is no messing around on Montreal detective Gilles Bellechasse's turf; the action surrounding his life, and latest case, is swift and to the point. It's difficult at first to see how things will ever get messy or complicated, the usual indications of a good, gritty detective novel. But then, a little over a hundred pages in, the bomb drops, and the sleuthing reader of Richard King's second novel in the "Nurse Linton, Detective Bellechasse Mystery Series," Banking on Life, gets thrown the proverbial curve ball.
The novel can be described as a cozy mix of old-fashioned detective writing crossed with cutting-edge twenty-first-century issues, precluding gory violence. This welcome lack of blood and guts lets the reader concentrate on the twists and turns of the plot as well as the characters, some of which make an appearance in King's Accounting for Crime (2011), a novel outside this series.
The story starts off quickly with an unknown male found dead in a hospital. We quickly learn that investment banker Michaela Bédard killed him in self-defence in the ER, after having been brought in for health issues that will play a part in the ensuing investigation. The death and its police wrap-up feel a bit too quick and easy, but, inexplicably, more bodies start to pile up.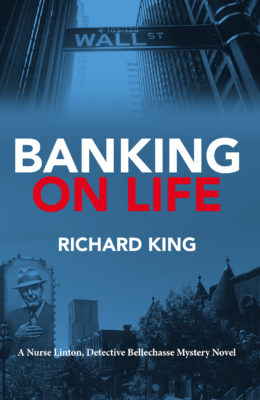 Banking on Life
Richard King
Baraka Books
$22.95
paper
274pp
9781771862400
Who is responsible for this slew of murders? The seedy bankers from New York who are "really a couple of very sketchy guys who named their company a bank," or the nerdy Montreal gamers who've created an encryption app that seems to be drawing attention from the wrong kind of businessmen? In the fast game of IPOs, money seems to be at the heart of everything. But in spite of this outwardly obvious explanation, Gilles hits a wall. His girlfriend, Annie Linton, the ER nurse present when all the action started, steers the investigation in a new direction using her powers of deduction. Her uncanny sense of analysis will shed light on what has been nagging us, and Gilles, all along.
As far as the writing itself is concerned, it works. King masterfully uses a slick third-person narrative throughout his novel, shifting from character to character at exactly the right moment, giving readers the best seat in the house. At times, we even know more than Detective Bellechasse himself. The fast-paced action hops from Montreal to New York and back again, but the page-turner leaves certain gaps about the characters' more profound emotional and personal lives – when it comes to Gilles' daughter Émilie and Annie's daughter Pamela, for example, one can't help but ask: Are teenagers really that reasonable?
With action taking place throughout a geographically accurate Montreal, Gilles chases bad guys from Park Avenue and Van Horne, all the way downtown to Crescent Street above de Maisonneuve, only to have to go back to the office on the second floor of Place Versailles in the East End. He even stops off for a burger with Annie at the Burgundy Lion on Notre-Dame Street. And in an esteemed nod to Mordecai Richler, King goes as far as renaming the Jewish General Hospital the Gursky Memorial Hospital. Montrealers will relish all the details of the city and easily grasp the familiar local French with which King doesn't hesitate to punctuate his dialogues – using the endearing term Lapin when Gilles is speaking to his daughter, and chérie when conversing with Annie, but also calling on accurate Quebec terms such as Urgences Santé and Identité judiciaire when describing the detective's work.
Banking on Life definitely belongs in the long line of Montreal detective novels, with its polished writing and rapid-paced action, all taking place in the well-known nooks and crannies of today's city. Sometimes, though, the action plays out so smoothly, with clues always arriving just at the right time in the hands of Detective Bellechasse, that it leaves little place for any gripping suspense to escalate beyond a minimum level. That said, Gilles Bellechasse and Annie Linton have a great crime fiction future ahead of them.mRb