Sina Queyras is the author of six books of poetry, the most recent of which, MxT, was a Lambda finalist and won the Pat Lowther Award, a ReLit Award, and the QWF A.M. Klein Prize for Poetry. She has also written a novel, Autobiography of Childhood, and edited a collection of Canadian poetry, Open Field: 30 Contemporary Canadian Poets. Queyras has hosted reading series in New York, Calgary, and Montreal, and until 2015 she was the author and curator of the renowned poetry and poetics website, Lemon Hound: More Bark than Bite Since 2005. Queyras is currently based in Montreal. 
Barking & Biting: The Poetry of Sina Queyras, edited by Erin Wunker, is the twenty-fifth volume of Canadian poetry in Wilfrid Laurier Press's Laurier Poetry Series. Books in the Laurier series are slim and accessible. Thirty-five poems are selected from across a poet's career and supplemented by an engaging critical introduction by the editor and an afterword by the poet.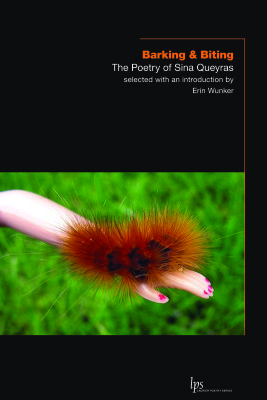 Barking & Biting
The Poetry of Sina Queyras
Sina Queyras; edited by Erin Wunker
Wilfred Laurier University Press
$18.99
paper
100pp
9781771122160
I corresponded with editor Erin Wunker, chair of the Board of Canadian Women in the Literary Arts (CWILA), about the process of curating this volume of poetry. I also briefly corresponded with Sina Queyras about her thoughts on the book.
Melissa Bull: What were you looking to highlight from Sina Queyras's work?
Erin Wunker: In making my selections I was trying to do two things. First, to select representative work from each of Queyras's poetry collections. For example, when Sean Michaels won the Giller Prize he quoted from Expressway in his acceptance speech. That quotation, "Go forth and undo harm. Go forth and do," made the rounds in newspapers and on social media. I made sure to select the poem it came from for this collection.
My second aim was to track Queyras's poetic attentions – which I see as focusing on literary and artistic genealogies, and on the intersection between lyric and conceptual poetic practices, which Queyras writes about as "Lyric Conceptualism." I see a real focus on developing feminist literary genealogies (meaning that in attending to and naming her influences – often, but not always women – Queyras's poetics are feminist), and a real focus on thinking through innovations in lyric and conceptual poetics that don't rest comfortably or uncritically in either poetic.
MB: Did you select the poetry for this book alongside Queyras? How did you make those decisions, whether together or apart?
EW: I selected the poems. To my mind, each of Queyras's collections is a real project – the poems start at one place and, through a huge variety of tactics, end up at a different place by the end of the collection. They are, I feel, books that teach you to think as the poems themselves are thinking and exploring. Choosing a select few poems from each text is a task that is, in some ways, bound to fail. No selected works will ever take the place of reading an entire collection.
I tried to choose poems that 1) demonstrated an evolution of poetic form over time, 2) demonstrated the things I mention above (genealogies of literary and artistic influence, experiments at the interstices of lyric and conceptualism), and 3) gave readers a sample of the different kinds of poetic work that make up each collection. I knew making the selections that it was an impossible task; my hope is that I have selected poems that will pique readers' interest and encourage them to go out and read her poetry in its entirety.
MB: This will be the twenty-fifth book in the Laurier poetry series, but only the sixth anthologizing a woman. Given your work as chair of CWILA, how important was it for you to bring Queyras's work to this canonical Canadian series? Do you feel an investment in the creation of a new Canadian canon?
EW: So important. With Lemon Hound, Queyras forged and fostered one of the most generative spaces for discussion and presentation of new and existing literary criticism, poetry, and creative writing in Canada. She is not only a brilliant and influential writer, she is also a community builder. Bringing a small sample of Queyras's work to a wider readership and helping to institutionally recognize her is deliberate and serves the double purpose of celebrating her writing and making space for writing by women in the Canadian canon.
"It's exciting to begin to see evidence of trajectory. I love trajectories. That it's my own is equally thrilling."
Canons will always be fraught. But literary canons exist, and I am invested in helping to diversify what books and writers people think about when they hear "Canadian literature." I would like to see indispensable reading lists comprised of writing by Indigenous women, people of colour, queer people, trans people, refugees to Canada, and people who are differently abled. There are, of course, writers in Canada who fit into all these categories. I would like to see their names come up when people ask, "what is canonical Canadian literature?"
MB: How does it feel to have these selections – from different projects and different times – come together in this collection? What do you think the selection of poems highlights about your work?
Sina Queyras: It's exciting to begin to see evidence of trajectory. I love trajectories. That it's my own is equally thrilling. I see that I like repetition and variation, prose poems, language, intertextuality, the lives of women. I'm more consistent than I imagined. But I think these are questions for others to answer. I'm thankful to Erin Wunker.
MB: Tell me about the book's cover image – a Barbie arm sporting a bracelet of fur – it almost looks as if her arm is being smothered by a giant, decorative caterpillar.
SQ: It's one of my images. While I was writing Lemon Hound I was also taking a series of photos called "Barbie Reaches Out." This is one of them. I thought it was a fitting image for the poems included as it reflects many of the ideas that were percolating: plastic, petroleum product, and a caterpillar. Actually I was using headless Barbies.
MB: Barking & Biting will be the twenty-fifth book in the Laurier poetry series, but only the sixth book anthologizing a woman. How do you think this count speaks to the canonization of women writers in Canadian literature?
SQ: Really? That low number surprises me. But why does that surprise me? I think who is anthologized is important for what it signals, and what it can do for a poet's trajectory, as well as for the editor. These anthologies offer ways to teach, and that means further embeddedness – or canonization if you like more manly terms. They are also good for editors' careers. It's hard to begin to figure out the relationship between the appearance of these anthologies, and the access points for women writers. One thing: I believe the series is driven by the interest of the editors, which is to say if you want to pitch one to WLU Press you should.
MB: What do you think of the title of this collection, Barking & Biting?
SQ: Well, it did ruffle my fur a little … but I guess the hound metaphors are my own doing. I have used the phrase "more bite than bark" and "more bark than bite" variously on social media. But I also try to separate the public bitch from the private poet. mRb