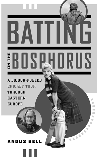 Batting On The Bosphorus
Angus Bell
Greystone Books
$22
paper
310pp
978-1-55365-441-4
In days gone by, when the BBC's fledgling TV transmitters regularly failed, the Corporation would display a card exhorting viewers not to adjust their sets. Sets, matched sets actually, are as good a place as any to begin an assessment of Scotsman Angus Bell's book,
Batting on the Bosphorus
, a picaresque odyssey through Eastern Europe in search of cricket nirvana.
At the wheel of his touchy Skoda, Bell drives us from Poland to Turkey, distributing balls, cricket pads, and sporty resolve at all points along the way. The ride is like a head-long careen in the company of Bill Bryson, Thumper (from Disney's Bambi), a raft of six packs and a bushel of willow bats. So what about the "sets"? Boxes and plenty of 'em. Bell is never far from a joke about a particular article of sporting protective gear, in this case the one designed to shield the male organ from unfortunate impact incidents. It is not something renowned for its comfort.
The setup for this whole caper comes in a message passed on at a psychic exposition. Here, Bell's great-uncle Ivor from Wales dispatches him on his Eastern yomp (or is it splunk?) through the ramshackle cricket leagues of the old Bloc.
There is much that is moist and crickety in Batting on the Bosphorus but it is not as daft as it sounds. Bell's account is a unique travel book that describes a disintegrating map of countries rather eager to forget themselves in the tradeoff between tradition and globalization. Country after country, Bulgaria to Slovakia, shapes up as a mad, dysplastic hodgepodge of corruption, prostitution, and religion with a few babushkas, transsexuals, and backpacking extras from Hostel thrown in on the radioactive verges. Surprisingly, cricket is our window into this world.
Bell describes himself not as a sports ambassador but "just as a bloke who likes cricket." This disarming attitude allows him to thrive for the most part, but pulls him up short on the boundaries, and the occasionally shifting borders, of old nations. Perhaps his exit from Belarus is the best example of how the intrepid traveller can end up stumped by the elephantine operations of a bureaucracy unmoved by recent history. It is all frustrating stuff and is only relieved by Bell's crowning cricketing moment when he blasts a tennis ball covered with duct tape from Europe into Asia.
All is not Eastern gloom, however. There is the scholar "Robert A. Elias" and his tall tale about one Leon (Hal) Trotsky, revolutionary and major league baseball player. Bell almost falls for that one. Then there is the revolving door of the author's travel companions: Aussies, students, the lost, the dying, and one puppeteer. And there, guarding all like a transcendental protective box, are the familiar rules of the game, embodying as they should the principles of fair play and the sacred right to consume alcohol.
Batting on the Bosphorus is a good book – perhaps a very good travel book – by a young writer, natural wag, and raconteur. If you do not like cricket it may mystify a little, yet Bell does supply a short lesson on the game. The prose holds together YouTube-like vignettes and situations, but there is a certain lumpiness in the style, a kind of carelessness. Be warned that this is a blokey book, written for blokes who know what a cricket box is and who are willing to wear one in anger. mRb