As editor Andy Brown sets out in the foreword of this collection of essays and interviews, BDQ refers to Quebec comics or bande dessinée québécoise, just as manga refers to comics from Japan. Unsurprisingly, Quebec is unique in its comics culture, which draws heavily on the Franco-Belgian tradition due to the shared language, and is also strongly influenced by North American trends, in particular the US underground comix movement of the 1960s and zines in the 1990s. Brown, also the publisher at Conundrum, acknowledges that the collection is only "a smattering" of what is available on Quebec comics. But obviously the featured artists, images, and essays, in his view, reflect important moments in BDQ history. The collection is divided into four time periods, with the longest section devoted to "The Nineties," evidently an ebullient period for sequential art, particularly in Montreal.
"The Early Years" focuses on Quebec comics that were published in newspapers with little or no text. The strips published between 1904 and 1909 were intended for adults and mirrored the social concerns of the day, such as urbanization, the woes of the working poor, and the arrival of new Canadians. This section includes a particularly interesting essay on the style, technique, and influences of Albert Chartier in his well-known strip Onésime.
"The Middle Years" takes us to the 1980s and introduces us to artists including Réal Godbout, the creator of Red Ketchup, and Jimmy Beaulieu, a principled creator who refuses to turn his back on Quebec comics. One of the most interesting pieces in this section is a previously unpublished letter from Julie Delporte to Sylvie Rancourt about the feminist significance of Rancourt's Mélody and the sensitive intelligence of her work.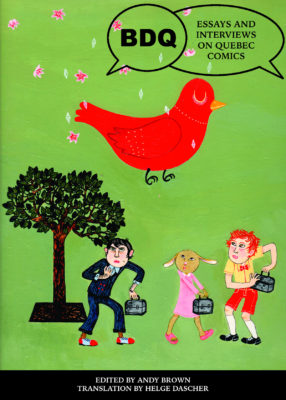 BDQ
Essays and Interviews on Quebec Comics
Edited by Andy Brown
Conundrum Press
$25.00
paper
224pp
9781772620184
The party really gets started in "The Nineties," and the two reigning stars of this section are underground superhero Henriette Valium and internationally acclaimed comic artist Julie Doucet. But the BDQ community apparently had its cultural clashes. In response to an article penned by Marc Tessier, "The Montreal Comix Scene," published in a 2005 special edition of
The Comics Journal
, a group of people took issue with Tessier's portrayal and let him know, point by point, in Letters to the Editor of
The Comics Journal
#274 (February 2006). In a previously unpublished essay on
Fish Piss
, Andy Brown refers to the zine that ran from 1996 to 2006 as truly bilingual. Its comics, essays, poems, and stories were published in French and English without translation, since its audience was as bilingual as its editor, Louis Rastelli.
The final section, "Modern Times," introduces comic artists who have had some recent commercial success. It features interviews with the late Geneviève Castrée, Michel Rabagliati, Zviane, and Diane Obomsawin, in addition to essays on the creator of Mile End, Michel Hellman, and the collaborative work of Zviane and Iris in L'hostie d'chat.
This collection is a great primer for anyone interested in graphic novels or sequential art from Quebec. Among the essays, I preferred those that touched on the artist's approach to stories and their work methods. As editor, Brown also did a commendable job of focusing on comics created by women when the BDQ scene has long been dominated by men.
Personally, I found the interview with Henriette Valium unreadable, but I'm nevertheless interested in seeing more work by this apparent iconoclast. Another unsatisfying read was "A Round Table on 1990s Quebec Comics." Although some interesting points were made, the number of participants made it hard to follow. My final criticism is the collection's very small print.
As the publisher at Conundrum, Brown has a vested interest in the success of BDQ, but it's also apparent from this collection that he has made an almost selfless commitment to the vibrancy of this community. Conundrum has translated many high-profile Quebec bédéistes, including Michel Rabagliati and his seminal work The Song of Roland, for the English-speaking world to discover. With support like this, we might soon see comics finally recognized as a true art form in Canada. mRb