"My past is tangled with men. Tangled like sheets. Just the way I like it," divulges the protagonist of "Funnel Cloud," the third piece in Peter Dubé's spellbinding new collection. Yet, alone in a dark basement, waiting out a tornado, he links the twister to his lifestyle – confronted with unexpected danger, he reevaluates past gambles: "How many lusty happy hours have I indulged myself with? How many randy nights with no regard for risk?" Doubling as a self-conscious narrator, he speaks directly to the reader as though sharing confidences: "Look again," he urges, drawing you in.
Gripped by this story, as with the nine others, you do look – again and again – despite all stormy warnings. It can't be helped. Like a magic wand, Dubé's poetic pen mesmerizes with sumptuous metaphors while beauty mingles seductively with recklessness and wreckage. Dubé's sixth book, an addition to his already noteworthy contributions to gay literature, serves up stories that are often surreal, sometimes supernatural, and never static. As suggested by the title, the mirror is a key symbol, especially in "Echo," where this magical portal reflects ever-revised versions of the past. Occasionally, the Montreal writer's political side surfaces, as in "Egress," which mirrors his 2012 novel The City's Gates, whose timely publication echoed the mood of the "Maple Spring" uprisings.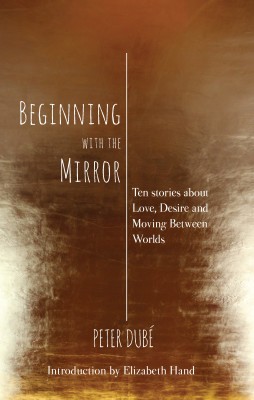 Beginning with the Mirror
Ten stories about Love, Desire and Moving Between Worlds
Peter Dubé
Lethe Press
$15.00
paper
178pp
978-1-59021-027-7
Mostly, however, the author dances with desire, taking us on a homoerotic romp through the elements – water, air, earth, fire – designing dreamscapes that undulate and defy simple interpretation. In the emotionally charged, liquid landscape of "Tides," for instance, boundaries between inner and outer worlds are permeable, making it tricky to distinguish the imaginary from the real. Sometimes it's best not to cling to logic. Reading
Beginning with the Mirror
is visceral, like a water slide into the unconscious.
In Dubé's moving opener, "Blazon," even fire feels fluid, snaking its way to eruption. Confronted with his own desire, the protagonist has trouble dissociating an inflamed conscience with actual fires. "Then his head came down, and he kissed me again—hard, full, his tongue in my mouth reaching for the hallucinatory serpent as it entered my head on waves of flame, coiled up in the roots of my brain and flooded everything with venom."
Depictions of sex can be explicit, and occasionally, as in "Needle," passion bleeds disquietingly into fury, magnifying "the warm wet violence of summer rain." Yet, the undercurrent of these cravings is often curiosity, a yearning to learn. "I can't count the times I trusted to fate to learn," confides the protagonist of "Funnel Cloud," recalling the occasion he followed two young men into a parking garage. Casual encounters are not necessarily impersonal: "And every time it is different. Only a truly superficial person would say that men are all alike in our pleasures."
Dubé's luscious language and a touch of abracadabra elevate scenes that might otherwise seem too crude. Distinctly Dionysian, reality revolves around the ecstatic, rather than the mundane. In the heartwarming closing piece, "Vision," Cam visits his dying friend, Dean, in the hospital, affectionately feeding him only the juiciest updates from his life: "I launch into an account of my week, careful to leave out the tedious details of the daily grind, the slow spiritual erosion that is the job."
Mirroring Dean's long, drawn-out death, this last story is the longest, delving into the supernatural. After weeks spent "hovering between worlds: the ordinary physical one and that of the spirits," Dean appeals to Cam for one last outlandish favour. Cam fondly remembers Dean as the friend with whom he would test his own limits, try the craziest stunts, and complies out of compassion, ignoring his own better judgement. "Nothing done for love is foolish," he resolves, encapsulating the tenderness that weaves through several of these stories, sealing the spell on a book that invites readers to study intimacy under lights beyond those of mainstream culture. mRb