"Graphic novel" is not a term favoured by many cartoonists, with its connotative whiff of being a vulgar hybrid of two more respectable disciplines. But Joe Ollmann's books might bear the designation better than most. Perhaps lesser known than his Canadian contemporaries Seth and Chester Brown, Ollmann has few peers when it comes to pairing visual sequences that pulse with expertly timed rhythm and text that is as lyrical and trenchant as any prose fiction.
The Abominable Mr. Seabrook, Ollmann's first full-length non-fiction work, is the sort of ripping adventure yarn that would do its titular character proud. A household name in the 1930s and 1940s, William Seabrook published sensational accounts of voodoo rituals in Haiti and cannibalism in the African jungle, and kept company with Gertrude Stein, Thomas Mann, Aldous Huxley, and Aleister Crowley, among others, but is scarcely remembered today.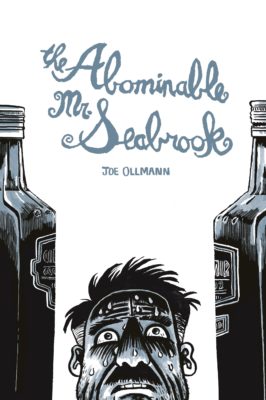 The Abominable Mr. Seabrook
Joe Ollmann
Drawn & Quarterly
$26.95
paper
316pp
9781770462670
His lurid ethnographies, indelibly rooted in the American exceptionalist vernacular of the time, went out of print long ago (and have been out of fashion for even longer), but his own story remains compelling. Ollmann weaves a clear-eyed and critical account of a world traveller and thrill seeker who knew no boundaries of geography or desire, a southerner whose affability transcended cultural differences, and who was ultimately undone by his own obsessions.
It's a monumental undertaking to distill such an outsized life and sprawling bibliography into one book, but Ollmann does it with admirable economy. Every panel is densely packed with emotional depth, deploying a range of subtle gestures, facial expressions, weighted postures, and period-specific detail. He's compassionate in his reading of Seabrook's body of work without sparing the shortcomings and indignities, and, in a way, Seabrook comes off even better for having received this treatment. Seabrook's work is a fascinating time capsule of the first half of the twentieth century, but his ceaseless yearning, unsated ego, and deeply flawed humanity belong just as much to our era as to any other.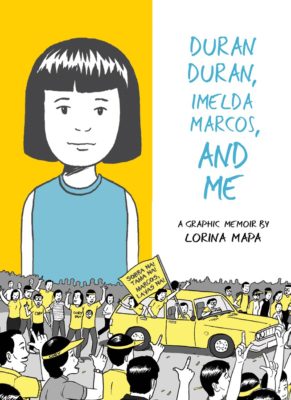 Duran Duran, Imelda Marcos, and Me
Lorena Mapa
Conundrum Press
$18.00
paper
140pp
9781772620115
I
n February 2010, Lorina Mapa was feeling estranged from herself during a brutal Montreal winter and decided to do something about it by putting pen to paper. A designer and translator by trade, she had never written much about her own life, much less attempted to sketch it out in sequential imagery. Before long, she knew the memoir would be both an antidote to her melancholy and a story worth telling.
Duran Duran, Imelda Marcos, and Me
details Mapa's upbringing in the Philippines during the era of Ferdinand Marcos, her formative pop culture obsessions, and her later immigration to Canada. Bookended by an account of her father's passing, the story is woven through with a cathartic sense of narrative-as-process, of using storytelling as a means to stabilize and heal.
Mapa's own account of her early years in the Philippines is immediately endearing, with her pop star crushes annotated in an appendix at the end of the book like a Tiger Beat who's-who from the early eighties. It's a delight to take in her lucid recollections of the thrilling tension between the strong conservative values of her family and the subversive attraction of bands like New Order and Depeche Mode. While it's fascinating to consider the universal appeal of young Rina's pop culture obsessions, the way they play out against the backdrop of the Marcos regime is where the story draws its power. With wide-eyed clarity and teenaged innocence, Mapa shows readers the rise and fall of a totalitarian state from her unique perspective: the awkward schoolyard conflicts, the upheaval of normalcy during days of general strikes, and the palpable tension of a family caught in the middle of a military coup. It's both a vivid revisitation of the recent past and a harrowing omen of days that many young people the world over may soon face for themselves.