Lawrence Lindell's Blackward is a journey through friendship, identity, and the power of zine culture. The story opens with a glimpse into the lives of four friends, each navigating their morning routines, setting the stage for their zine-making adventures. Lindell invites us into personal connections with Lika (the sweet, sensitive type), Amor (good-looking and confident), Tony (the shy, quieter personality of the bunch), and Latrice, also known as Lala (the funny one, who is willing to stick up for her friends).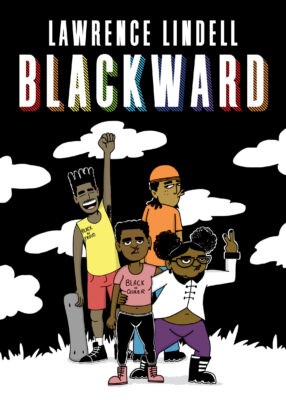 Lindell underscores the hurdles faced by Black individuals who express themselves beyond the stereotypes put upon them.  We see this in the beginning of the book, as Lika makes her way to the local community centre. Her run-in with a few young guys who make fun of her clothes and decide she's a weirdo who "think she white" is a reminder that for Black folk, outward expressions of any subculture are harder, more dangerous, and mentally taxing. 
We get to reflect that it is possible that Lika has had to battle for her chosen outward identity on her way to anywhere. She actually battles two complex identities. She embraces the zine subculture, which stands in opposition to traditional norms and established status quo. Also, by being Black, Lika herself is already, inherently, against the grain. I am reminded here of a quote from Ben Passmore's incredible graphic novel Your Black Friend:
Your black friend's black friends do not think he is 'black' enough. He doesn't want to reclaim his African-ness, he doesn't like loose fabrics, he chills with too many white people. Your black friend doesn't think that 'black' is a performance, isn't earned through association, he believes it's an existential reality. 
Blackward also captures both the negatives and positives of intergenerational relationships. The former is most notably depicted by the character of "Strong Black Man," with his rigid, conservative approach to philosophy. "Strong Black Man" represents an older generation, and  symbolizes the different political ideals of Black movements throughout history. 
Meanwhile, the positive side is seen in Mr. Marcus, owner of the bookshop "Books n Thangs." A touching moment occurs when Mr. Marcus shares a DIY flier from the '60s that he made for his community's very first literary festival. Mr. Marcus emerges as a central character who helps bear the weight of the obstacles the group comes up against. He becomes a symbol of resilience and deep, meaningful friendships, and their most important voice of encouragement. He urges them to keep pushing and continue their zine-publishing efforts despite their travails. In many communities, any voice of motivation for personal artistic goals is a precious thing.
Lindell's bubbly, kawaii-esque visual style adds a naivety that juxtaposes, but also highlights, the impact of the social situations our main characters come up against. It is a great read for any young person looking for a book where one Black individual does not bear the weight of representing every single Black person on earth. Each of our characters is represented as having their own unique, specific identity. Addressing the challenges of uniting voices and experiences, Lindell even includes gray area matter, such as the cringe-inducing eagerness of the overzealous white ally. 
Giving light to the internal and external conflicts that can arise, the zine-making process becomes social commentary. Lindell's extensive experience as a self-publisher adds authenticity to the zine-making exploration, providing insight for younger audiences of future print creators facing their own challenges. His storytelling introduces us to a world of well-developed characters and relatable experiences, asking us to contemplate the significance of community, creativity, and resilience.mRb