Prize-winning Cree and Algonquin painter and poet Virginia Pésémapéo Bordeleau wrote and published her debut novel, Ourse bleue, in 2007 – the first to be published by an Indigenous woman in Quebec. Blue Bear Woman is, however, her second to be translated into English, and finely so by award-winning translators Susan Ouriou and Christelle Morelli. Published by Inanna Press, the novel traces the seemingly easy and meandering journey the narrator, Victoria, makes to visit relatives and piece together her family story. It also makes plain her desire to resolve the enigmatic death of her Great-Uncle George, who went missing in 1953 on his hunting expedition during a period of starvation. She is intermittently troubled by dreams about his disappearance, in which he reminds her of "her mission" to find his bones. In 2004, she thus embarks with her partner, Daniel, for James Bay, in part to see if she can account for the mystery surrounding this presumed death.
The narrative follows the immediate and literal journey she undertakes with Daniel into her peoples' traditional territory around James Bay. It is interspersed with flashbacks to her childhood, a personal and psychological journey into "obscure territories hidden deep in impenetrable atavistic memories." One of these memories is an exchange with her mother, who observes that "your dreams sometimes showed you things you could never have seen."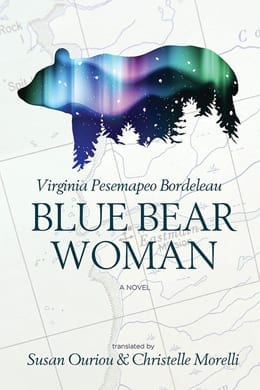 Blue Bear Woman
Virginia Pésémapéo Bordeleau;
Translated by Susan Ouriou and Christelle Morelli
Inanna Press
$22.95
paper
170pp
9781771336819
Victoria will learn that her dreams are indeed a "gift" that reveal moments she has not witnessed – or has yet to witness – and which are understood within Cree epistemologies in ways far more potent than she initially understands. What she learns on this journey thus also becomes crucial to her relationships with her Cree family members and her understanding of her place in the community. The title references the "the constant presence of the bear figure" in her dreams, which her father reminds her is also significant to the specific terms of her conception and identity. She will later learn that she has been chosen by the Bear Spirit, and that her "totem," the Blue Bear, provides her with this gift of sight, among others.
As Victoria spends time with aunts, uncles, and cousins, she pieces together the story of the legacies surrounding her family and herself. However, the journey also highlights several challenges – not the least of these being intergenerational trauma and the struggle for land rights. As she attempts to locate the remains of her uncle, she is confronted by Québécois and American archeologists and anthropologists working on the Nadoshtin Project, a series of agreements made between the Grand Council of the Crees (Eeyou Istchee) and Hydro-Quebec. They consult with the Elders, whose ancestors used to stay on traditional Cree territory and who are able to identify the graves of members who lived there – all of which are profoundly affected by the construction of hydroelectric dams on the banks of the Eastmain River. David, one of the scientists Victoria meets, also works with the Elders to develop the cultural heritage program that would "honour the 'memory' of the Eastmain and Rupert rivers." The latter offers a point of comparison with past incursions manifested in the various markers of Catholicism: Victoria notes these tangible incursions, for example, in the form of the chapel, built by missionaries and transplanted to the village of Chisasibi, and the related legacies of trauma that have permeated her family history.
The narration of Blue Bear Woman is uneven at times, but overall, the elegant, spare writing evocatively contrasts with moments of great intensity and drama. The seemingly "easy" journey is ultimately challenged by discoveries and events that are entirely unexpected but lead to profound insight. Blue Bear Woman is a gift to its readers.mRb