In Blue Lake, Janet Savage Blachford has written a poem in the shape of a novel, anchoring her story within a vivid and magical Laurentian setting.
Blue Lake is a place where the land belongs to everyone, where people "considered need or want more significant than ownership." In Blue Lake, history and tragedy threaten to repeat themselves in each generation, with each character "doubled and shadowed by past, present and future." In this community, it's considered perfectly reasonable to camouflage your cabin with paintings of trees or to cultivate a garden of poisonous plants, fertilized with the ashes of family and friends.
The story focuses on Ted Gault, a middle-aged literature professor whose family has owned a cottage on Blue Lake for generations. When Ted's mother dies, he is stunned to discover that she has cut him out of her will. Instead, she has left the cottage to his estranged ex-wife, Béa, who fled the marriage and the country after the drowning of their toddler son, Minnow.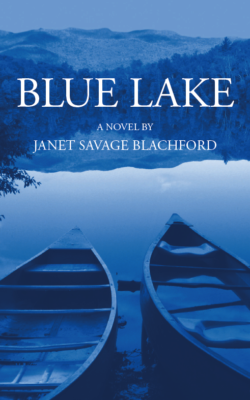 Blue Lake
Janet Savage Blachford
John Aylen Books
$24.99
paper
229pp
9780995334113
Determined to reclaim his birthright and confront his past, Ted returns to Blue Lake for the first time in years. Despite his concern about whether it will be "fair or even possible to layer their lives over the scrim of the earlier one with Béa and Minnow," Ted convinces his wife Caely and their teenage son Rob to leave their comfortable life in Vancouver and spend a whole summer at the lake.
Over the course of this summer, each character develops their own obsessions: Rob relives his father's youthful fixation with canoes and the Franklin expedition, while his mother Caely designs a fanciful rock garden, complete with a theatre and a plexiglass pyramid. Ted, meanwhile, roams the lake, brooding over his past and trying to make decisions about his future. Ted and his family are gradually absorbed into the Blue Lake community, interacting with a varied cast of neighbours who include a precocious preteen tomboy, an enigmatic hunter, an artistic divorcée, and an ancient matriarch. Everyone watches everyone else as they set off on personal quests towards self-realization.
This is a book where setting is more important than plot, and Blachford's glowing prose animates her descriptions of Blue Lake. Each season is beautifully depicted, with "iced-up bushes and trees sparkled in tiny shakes of air, rattling like bird bones" in winter, a springtime field of blue flowers "burning as blue as cognac on plum pudding," and finally summer, when plants, like children, begin "pulling away from their nurturing roots."
Interwoven with the daily lives of Ted's family and neighbours are elements of magical realism. Characters speak in the language of legend and allegory, dropping allusions to Celtic and Egyptian mythology as well as the Garden of Eden, Prospero's island from The Tempest, and the classic French-Canadian flying canoe described in La Chasse-galerie. The symbolism is particularly noticeable with the book's animal life, from the pet dog who is repeatedly mistaken for a bear to the wildlife living alongside the people at Blue Lake: a dying baby moose, an unpredictable black bear, and a shadowy lynx.
At times, the narrative falters under the burden of these double meanings, leaving the reader bewildered by the dream-like logic that animates Blachford's novel. Several subplots seem to evaporate midway through the story and some characters are sketched too thinly, never quite coming to life.
As a whole, Blue Lake succeeds as a poetic meditation, a figurative pilgrimage rather than a plot-driven novel, transplanting themes of life and death, guilt and luck, time and inheritance into the hinterlands of Quebec. mRb
Author photo by Bryan Demchinsky