I know halfway through reading D.M. Bradford's newest release, Bottom Rail on Top, that I want to ask them a question I feel conflicted about. I don't want to ask in the interest of causing friction or frustration, but in the belief that they will be better able to answer than I ever could. It's not an explosive question, but the false security of national borders belies how many people commonly live with – or as –  open questions of geography.
Bradford's practice crystallizes some of the most significant and fruitful possibilities of Montreal's poetry scene. Their effortless move between French and English has already been applauded with a 2022 Griffin Poetry Prize nomination for their debut collection, Dream of No One But Myself (Brick Books, 2021), and the acclaimed publication of A House Within a House (Brick, 2023), a translation of Nicholas Dawson's Prix du livre de Montréal-winning Désormais, ma demeure (Triptyque, 2020).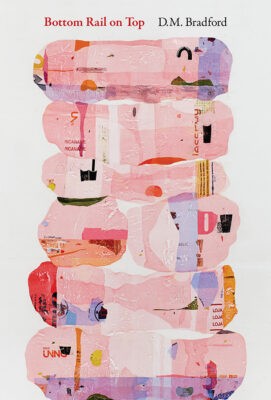 Bottom Rail on Top
D.M. Bradford
Brick Books
$22.95
paper
144pp
9781771316101
Quebec and Canada are understandably eager to claim Bradford. The only direct mention of either in
Bottom Rail on Top
, however, is in the book's front matter, a curious identifier tag that I can't help but notice: "Canadiana." The poems themselves instead brim with spectral strains of Yankee rallying songs like "The Battle Cry of Freedom" and promises of forty acres and a mule. These motifs are part of a mythology that I'm used to hearing is irrelevant to, even imported into, Black Canadian life. But the notion that this land, and the people living on it, can somehow be severed from the African-American story is itself a mythology that refuses to see past its limiting horizon. 
"The racial imaginary that dominates my life is a Black American one. It just is," says Bradford, sharing that their paternal great-grandmother immigrated to the United States from Jamaica. They go on to trace the "systemic breakages that slowly push people away from each other generationally, until my father ends up in Montreal, and I end up here … [Montreal] is where I feel most of a sense of place, but I feel like this sense of place thing is only something that I've come around to in the last decade." They cite their previous feelings of ambivalence as partial inspiration for this book: "What do you do with land when all you see is these conditions, when all you see is this history that, for me, involves displacement?"
Bottom Rail on Top is a cat's cradle of echoes and ephemera from pre–Civil War America, demonstrating how deeply the threads of slavery are incorporated into the fabric of the twenty-first century. The poems, their lineation laid across the page like little archipelagos, are precise but bottomless. Reading them feels similar to wading into deeper water than anticipated: the drop in your belly, your toes trying to graze for the sea-floor. Beginning at a plantation big house tour, then finding yourself at Ken Burns' Civil War documentary on PBS. Or trying to imagine the inside of Harriet Jacobs' hideaway crawlspace, three by two metres and only a metre tall, where she spent seven years to escape enslavement. Or even in the mattress aisle at IKEA, contemplating the ethics of their production, their wanton comfort. 
The collection is a prismatic study of legacy – generational, economic, cultural – but Bradford avoids turning the past into simply a lens for present-day cruelties. Though the "lustre" of a collective, continuous temporal narrative of struggle is popular and undeniably compelling across contemporary scholarship and poetry, people across the diaspora do not inherit these narratives equally – especially along class lines, on which Black artistic circles commonly remain silent.  "There's a reason that those connections are happening, but I'm also interested in the contrast. It's not that people like me are completely divorced from those [historical] conditions; it's that we're experiencing them in a different way … How much 'speaking on behalf of' can you do, and how much do you want to do?" The poems thus parse how much one's sense of self is owed to cultural invention as it is to historical consequences, and how we might confront our complicity in that invention with honesty.
The book's title, too, exemplifies the inexactness of where fact ends and fiction begins, borrowing from an unverified, and likely imaginary, anecdote from the Reconstruction era. As Bradford recounts in the opening epigraphs, an unnamed Black Union soldier spots his former enslaver among Confederate prisoners of war, and can't help himself from wisecracking, "Hello, master! Bottom rail on top this time." The story is a little too witty and neat. It glimmers too prettily, from centuries of compression under the profound traumas of enslavement, the Civil War, and Jim Crow. A desire for closure made the fable irresistible for journalists and historians, who circulated versions of it for over 150 years. 
Bradford's encounter with the bottom rail anecdote, and their tracing through archival sources to its dubious origin, shifted the manuscript's focus: "I didn't know that it was going in this historical direction. I thought it was going in a more Black pastoral direction. In a funny way, I think it ended up there anyways." They don't opt, though, to restage well-trodden terrain of African-American history, hazy with romanticism and co-signed by the state. Bradford is particularly bothered by the invented Black soldier's empty silhouette, his unspecificity; how easy it is to contrive a character and put words in his mouth. They explain their process from the archival note to the stanza, how they plough through the fantasies and presuppositions embedded in the language of cultural invention:
Once I got over the lying of it all, I started thinking, 'Well, what is the desired effect of those lies?' There's a certain set of identities, an American worldview that, on both sides, those people have decided is served by the lie of their respective version of the anecdote, which, inevitably, to them, probably makes it kind of true. To them, it's a true story, even if it's not a fact. So then, I enter their responsibility.
Since they are so capable of facing these nebulous ethical pangs with clarity, I decide to ask Bradford the question I'm conflicted over. This book on African-American ancestry was written mostly in Montreal and published by an esteemed Canadian press. What did they learn about Blackness over the course of writing with this border at the centre? I don't want it to come across as the question I hate: how can you be both?
Bradford believes that: 
There's a lot of filling-in-the-blanks required for these histories and experiences, and the way we mediate them as Black folks in the present … In these diasporic frames, these frames of people who are descended from the transatlantic slave trade and dispersal that happened in this very capitalistic way over centuries, the connection is broad … Some of this book is about filling those blanks, about filling in that space, learning what I can – I think there's a limit to what we can learn, but learning what I can, and then sharing my piece about the contrast that I can't help but see.
Bottom Rail on Top urges us not to take our inheritance for granted. The difficult questions must always be asked of it. History is no place to hide.mRb