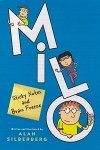 Milo: Sticky Notes And Brain Freeze
Alan Silberberg
Aladdin
$18.99
hardcover
278pp
978-1-4169-9430-5
M
ilo Cruikshank may struggle with academics and the social intricacies of junior high school, but when it comes to keeping his nose down and his feelings at bay, he's an expert. He's already moved house five times in his life, which is why he now keeps most of his belongings permanently boxed in his closet, ready for the next relocation. Alan Silberberg's novel begins with another new home and school for the awkward hero, only this time Milo doesn't have the stability of a supportive family to help him through the transition: his mother recently died and his father and sister are just as lost in a "fog" as he is. Milo is constantly reminded of her passing, but, thankfully, life is also full of distractions, like new best friend and fellow Freezie-guzzler Marshall; a persistent girl-next-door fond of sticky notes; and, the object of Milo's secret infatuation, the perfect (and perfectly-indifferent-towards-him) Summer. Milo's ironic observations as the "geek" outsider are sure to make readers guffaw, especially when complemented by Silberberg's cartoonish illustrations. Yet while the delivery is wry, the message is serious: slowly the school year progresses, and so does Milo, who is finally ready to look beyond the fog and retrieve his memories – painful and good – of his mother.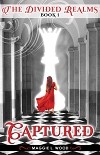 Captured: The Divided Realms Series, Book 1
Maggie L. Wood
Lobster Press
$12.95
paper
284pp
9781770800717
F
ifteen-year-old Willow has grown up entertained by her Nana's stories of Mistolear, a magical land complete with princesses, knights, and fairies. Then Nana – her guardian since infancy, when Willow's parents perished in a fire – dies, and Willow is transported into the realm she had always thought of as myth. It turns out that Willow is a real princess, sent to Earth to come of age safely while her home kingdom of Gallandra battles the neighbouring kingdom of Keldoran, in an elaborate quasi-chess game set up by a mischievous Dark Fairy. Willow has to quickly come to grips with her magical powers and her destiny as the kingdom's saviour, for pieces are advancing across the board to "capture" her, just as her own, true, royal parents were taken.
Captured's elaborate politics and cast of characters may be disorienting for readers at first, but like Willow, one soon becomes captivated by the possibilities of a fantastical realm. Wood infuses her fairy tale with a modern perspective, making Willow scoff at the stiff ideas of femininity carried by her "pompous pig" knight-protector (and potential love interest), Brand. And her mission is a relatable one, more psychological than material: in the words of her fairy "nethermother," "[to] be strong in your knowledge of who you are, but at the same time, open up to what is still possible." Wood offers a delicious debut to her Divided Realms series.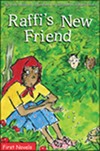 Raffi's New Friend
Sylvain Meunier
Translated by Sarah Cummins
Illustrated by Élizabeth Eudes-Pascal
Formac Publishing
$5.95
paper
64pp
9780887809330
R
affi McCaffrey, Sylvain Meunier's determined boy-hero with sickle-cell anemia, returns for another ad- venture in Raffi's New Friend. Raffi and his faithful pal Carlito witness an act of bullying that draws them to the victim: Fatima, a new student at their school who is hounded by three peers for wearing a headscarf. Later, Raffi and Carlito stumble upon her private moment of grief as she feeds mourning doves in her backyard, singing with a voice "as light as a sigh, pure as crystal." Their mutual interest in the birds draws them together, and the boys discover the reason for her sadness – not the schoolyard taunts, as they imagined, but the absence of her beloved father, gone missing in her war-torn homeland. Although Meunier's novel – a translated work – sometimes falls into awkward phrasing, it is successful in its discussion of prejudice and violence, using a scenario accessible to young Canadian readers. Eudes- Pascal's ink sketch- es convey the characters' emotions with flair.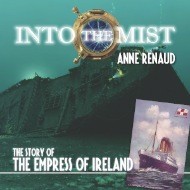 Into The Mist: The Story Of The Empress Of Ireland
Anne Renaud
Dundurn Press
$14.99
paper
106pp
9781554887590
I
n her new non- fiction title for young adult readers, 
Into the Mist: The Story of the Empress of Ireland
, Anne Renaud focuses on the elegant ship from the Edwardian era that sank in the St. Lawrence River, taking over 1000 lives with it. In Renaud's account, the wreck isn't depicted until the second half of the book, the author taking care to first make a case for the liner's contributions to Canadian industry and society. The Empress of Ireland was built in 1905 in Scot- land for the Canadian Pacific Railway to carry mail between Britain and Canada. At the time, Canada was seeking European immigrants to settle in the lands newly linked by the railway and the Empress of Ireland be- came an important vessel for bringing settlers into the country. Renaud's descriptions of the tiered accommodations available to passengers – which included a barbershop, a library, and a children's playground – illustrate the class divisions of the era. She further humanizes her story by making case studies of some of those who traveled on the ship. The many photographs and historical documents, such as advertisements and news- paper headlines, included in the book help the reader visualize the period, so that by the time the sinking is described, its tragedy seems all the more profound.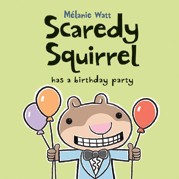 Scaredy Squirrel Has A Birthday Party
Melanie Watts
Kids Can Press
$16.95
hardcover
32pp
9781554534685
N
o rodent does paranoia and compulsion better than Scaredy Squirrel, ushered back by creator Mélanie Watt in 
Scaredy Squirrel Has a Birthday Party
 to celebrate his birthday – in as quiet and orderly a fashion as possible. Party décor, location, cake recipe: all are meticulously planned, no matter that the birthday boy is the only invited guest. But then Buddy the dog mails Scaredy a card, and as "a kindly gesture deserves a kindly response," Scaredy widens his guest list just a little more… When a gang of neighbourhood mutts shows up for the party, Scaredy's hyperscheduling and numerous back-up plans go out the window. Will Scaredy emerge from his self- induced coma in time to enjoy the day? Watt's latest, rendered in her characteristic brightly coloured style, is sheer fun.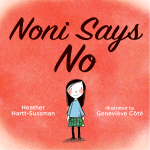 Noni Says No
Heather Hartt-sussman
Illustrated by Geneviève Côte
Tundra Books
$19.99
hardcover
24pp
9781770492332
N
oni's proud that she's big enough to tie her own shoelaces and help care for her baby brother. But a big challenge shadows her happy days: "Noni cannot say no," most especially to her best friend Susie. Susie's requests are small enough to begin with, and Noni indulges her wishes with only a twitch of discomfort. Then her friend's whims grow wilder: when Noni finds herself sporting a new and very clumsy hairdo by Susie's hand and having to sleep on her own floor because Susie would rather take the bed, Noni finally puts her foot down. In 
Noni Says No
 Hartt-Sussman offers children preoccupied by peer acceptance a gentle lesson in assertion, buttressed by Côté's airy sketches of the timid Noni, who gains in colour and movement when she learns to say no.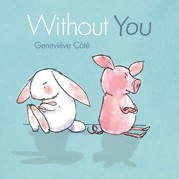 Without You
Geneviève Côte
Kids Can Press
$16.95
hardcover
32pp
9781554536207
G
overnor General Award–winner Geneviève Côté's endearing new picture book 
Without You
 begins with a falling out between two good friends, a bunny and a pig: "You're so careless!" accuses the rabbit; "You fuss over any little mess!" declares the pig. So each goes off to play alone, relishing for a time the freedom gained. It soon becomes apparent, however, that their painting, playing music, reading, and dressing- up lack the pleasure brought by companionship: "[M]y cookies taste better when I share them with you!" con- fesses Pig;"A wagon can be an air- plane when I'm with you," muses the bunny. Rendered in soft pastel watercolours and simple pencil lines, Côté's tale of reunion emphasizes the bonds of friendship over petty differences.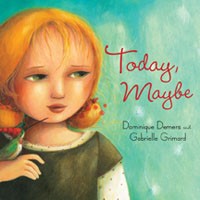 Today, Maybe
Dominique Demers
Translated by Sheila Fischman
Illustrated by Gabrielle Grimard
Orca Book Publishers
$19.95
hardcover
32pp
9781554694006
I
n Dominique Demers's intriguing tale of faith, Today, Maybe, an unnamed girl lives with her little bird in a house by the forest. Everyday she wakes up with the words, "Today, maybe he'll come." Just who, readers don't know, and neither does the girl. Every now and then, a visitor arrives to disturb the golden calm of her cottage, sometimes threatening – like the jagged-toothed thieves and the hulking wolf – sometimes sweet, like the handsome prince. Gently but firmly she turns them all away, waiting for that special visitor. Demers's protagonist is an inspiring heroine for young readers, a problem-solver confident in her purpose. Grimard brings a classic beauty to the story with pictures that contrast yellow warmth and comfort, and the girl's smallness, against the sweeping, dark shapes of the outside world. The author and illustrator effectively build anticipation with each new encounter; rest assured, the girl's long wait is worth it.
mRb