It's a beautiful balmy Friday, and Montreal author April Ford has just wrapped up another week of teaching ESL online. She's already spent hours in front of the computer, but she seems stoked to tack on a few more to discuss her debut novel. It would be sweet to meet in person, especially outdoors – clear skies promise stars – mais, tant pis, Montreal's terraces, normally in full bloom this season, are closed. Same goes for La Ronde, the amusement park that houses the historic carousel around which Ford's riveting story revolves. Crowned Canada's epicentre for COVID-19, Montreal is still spinning at half speed.
Yet, as we get talking via Zoom, tucked beneath our respective roofs, lockdown concerns temporarily fade while two cats occasionally appear before the camera, foreshadowing something Ford mentions later: "I'm an animal person," she says. "I grew up riding horses, having cats." Speaking of horses, Ford's face lights up when I tell her I love that she's dedicated her novel to "the stargazers," honouring the classic carousel creatures that weave wonderment into her modern-day story about midlife crisis. "Stargazers are the ones with their heads looking up at the stars," muses a seventeen-year-old character named Katy, messing with protagonist Margot Soucy's middle-aged mindset. "Napoleon's a galloper, just like all the horses on here, even the ones in front of the chariots – usually those guys are standers. Imagine being stuck in the same pose all your life, seeing the exact same thing day after day after day? I'd want to be a stargazer if that was the case. Poor Napoleon, I wish you could see the stars."
Forty-five-year-old Margot, who's "never risked anything greater than a found dollar on a lottery ticket," has ditched her long-held career as an antique firearms dealer in an attempt to sidestep a midlife crisis. Yet none of her newfound freedom has helped revive romance with her gallery-manager wife, Estelle: "After two-and-a-half decades with a woman whose gasp-worthy winsomeness and intelligence I had avowed to protect and nurture for the rest of our lives, I was bored," Margot confesses. Hoping to break out of their rut, she heads to La Ronde to photograph Le Galopant, "the world's oldest galloping carousel" for her one-and-only, who loves "beautiful things." But life goes totally tilt-a-whirl when Estelle uncovers a secret Margot's been keeping about her family. The harder Margot tries to flee her painful past, the dizzier she grows from her unwelcome preoccupation with carefree Katy, the young woman she's met at the park; and the more her memories cycle 'round, like old carousel horses – an inescapable ring of Napoleons and stargazers nudging her to
buck up and face her fears.
While midlife crisis isn't a new theme, Ford's treatment of it feels fresh, voicing an under-heard side of the story.
Asked whether she's a stargazer or a Napoleon, the author throws her head back, laughing. "I feel like, oh God… I'm a bipolar stargazer or a bipolar Napoleon." Witty and upbeat, at forty-one, Ford appreciates Katy's "in-the-moment" spirit, but like Margot, has had enough sobering experiences to keep things real: "I'd like to be a stargazer. I think I have it in me, but life sorta made me put a sunroof over it."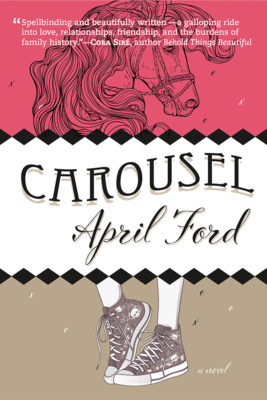 Carousel
April Ford
Inanna Publications
$22.95
paper
300pp
9781771337137
Ford recalls catching the writing bug while living in a group home for the last year and a half of her teens, a period during which she had a serious car accident that halted her horseback riding and derailed her hopes of studying criminology. Injuries included head trauma that stole her hearing in one ear and peripheral vision, but – as if by providence – graced the future author with markedly improved language skills. She remembers a meeting that hinted at her literary fate even before her accident. "Someone came in one night," Ford says. "I think she was a social work student at McGill doing an internship, and she did a writing workshop with us in the group home. I was sixteen and a half at the time, and I thought it was terrific."
Grateful for this positive experience, Ford has given back over the years as a writing mentor for at-risk youth. Today, she teaches adolescents through the QWF's Writers in the Community program, and is proud to have passed the bilingualism test at l'Université de Montréal, where she's returned to school to study social work. "Other than writing fiction, I guess my passion and drive have always been to work with people who are struggling," she says, excited to add a BSc to her creative and professional writing BAs from Concordia and an MFA in Fiction from Queens University of Charlotte.
Meanwhile, she's thrilled that Carousel, her third book after Death Is a Side-Effect (poems, Frog Hollow Press, 2019) and The Poor Children (short stories, SFWP, 2015), is ready to whirl. While uncertain about launching during a pandemic, she recognizes that there are "trailblazing opportunities for the arts right now," and hopes Carousel will do well since it has a "possibility-of-restoration tone to it."
The eye-catching Le Galopant, picked apart for repair in the novel, is indeed a striking metaphor for rehabilitation as Margot and Estelle embark in couple's counselling. When the aging carousel is threatened with closure, Margot's panic ripples through the reader, who's mesmerized by the prickly yet magnetic heroine's clumsy efforts to mend her marriage.
While midlife crisis isn't a new theme, Ford's treatment of it feels fresh, voicing an under-heard side of the story. Self-identifying as bisexual, the author notes she's published little LGBTQ work before. "I have a lot of it written," she specifies, "but I've had a much harder time having it published, which says something, I guess." Stressing that she's tired of stories about men, she proclaims: "So, with Carousel, I'm going to be the voice that I would want to read; I want to talk about women."
Ford's commitment has yielded great results: well-developed characters gallop through this poignant exploration of intergenerational trauma, skillfully offset with dark humour. It's hard to forget a protagonist like Margot, whose "two-tone spectator shoes" and "black merino derby hat" set her apart from chapter one. Emotionally, the story is as much a rollercoaster as a carousel, keeping readers on the edge of their seats until the very last page, wondering whether Margot and Estelle will survive the ride.
Lending credence to the adage that you should write what you know, Ford chose well pinning La Ronde as her backdrop. Loving carnivals as a kid, she's been returning to the park every summer since her early teens, braving the wildest rides. "My favourite time of day in a carnival, which I really tried to recreate at the end with Margo, is twilight," she emphasizes before describing the kind of sophisticated adventure that sets in once the screaming kids are gone and the rides are lit up.
As our conversation winds down, it feels fitting that, beyond all the rooftops, it's twilight in Montreal, Ford's favourite hour, suggestive of future feats. While the pandemic may prevent the author from visiting her old haunt this summer, it's hard to imagine life will be dull. Her next novel already underway, she's got Carousel, a dazzler of a ride, all lit up for a round of adventure. mRb