Ben Katchor's Cheap Novelties is considered to have been one of the first modern graphic novels. First published in the late 1980s as a series of strips in the alternative weekly New York Press and then as a RAW one-shot in 1991, the comic has finally received the full Drawn & Quarterly treatment on the occasion of its twenty-fifth anniversary. This beautifully designed hardcover edition is a testament to the enduring appeal of Katchor's thoughtful tales of urban exploration.
Our guide is Julius Knipl, an aging real-estate photographer, who travels his city on foot and by public transit, remarking on the fading vestiges of pre-war urban culture both real and imagined: drugstore soda fountains, flop houses, sign painters, door-to-door rubber band salesmen. Knipl's world is somehow both precisely New York and vaguely every city in North America at the same time. Occasional bird's eye view perspectives reveal nonspecific but authentic-feeling streetscapes and when Knipl flips through a squeaky rack of postcards, the glossy photos depict fictional but entirely plausible tourist destinations such as Binocular Park and Smolt Bridge.
Katchor usually stays at street level, highlighting the details of storefronts – always independent businesses with unique signage, most notably the countless diners, delicatessens, and cafeterias that still dotted the urban landscapes of the late twentieth century. His scratchy lines, crowded panels, and often off-kilter framing create a dreamy world where the boundaries between past and present seem to blur. The dominant grey washes give the sense that it is perpetually overcast, or evening, reinforcing the melancholia and gauzy nostalgia of the dialogue and captioned narration.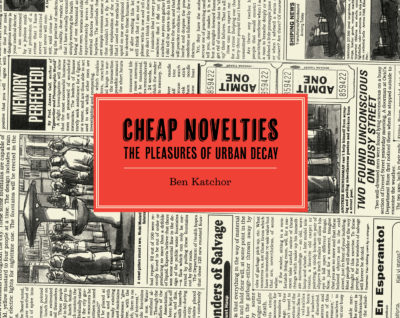 Cheap Novelties
The Pleasures of Urban Decay
Ben Katchor
Drawn & Quarterly
$26.95
cloth
112pp
9781770462632
This is a decidedly analogue world of boxy Jewish men in fedoras reading newspapers over cups of thirty-five-cent diner coffee – a world that was slowly but surely passing out of existence when Katchor was creating
Cheap Novelties
. One strip shows Knipl at a series of soda counters trying in vain to order his favourite drink, "Herbert Water," while the narrator observes, "As one soda fountain drink was born another would fade into oblivion. What were common names, are suddenly archaic terms in the mouths of old men." The strip ends with an ominous portent: a soda jerk pointing to a glowing fridge and telling Knipl "the fountain's broken all we have are cans."
Knipl solemnly observed a world already in the process of disappearing; but now, nearly three decades later, it is a world that is all but gone. While Knipl laments the disappearance of the "communal sugar dispenser" in favour of individual sugar packets, one can't help wondering what he might make of the third wave coffee bars that have long since replaced his beloved diners. The twenty-first-century reader of Cheap Novelties experiences a kind of double-layered nostalgia – for the fading customs and places Knipl was documenting, but also for the transitional geography of the late twentieth century, before the hardening of gentrification, when generations-old family businesses were still common in urban streetscapes. When a hot dog with mustard and sauerkraut cost fifty cents. Likewise, scenes of Knipl using phone booths and developing photos in his darkroom, of a man reading a TV guide, and the general prevalence of newspapers in the strips, have a very different resonance today than they did when they were created in the late 1980s, their original melancholy overlaid with new layers of significance.
I would have welcomed a short preface to the collection, but such a text is certainly not necessary to enjoy or appreciate the strips. Cheap Novelties speaks for itself. It is a wonderful archive of twentieth-century urban life – both the idiosyncrasies of pre-war culture and the now-charming banalities of the pre-digital city of the 1980s. mRb