Mary Soderstrom opens her latest book, Concrete: From Ancient Origins to a Problematic Future, with a quote from a friend who asks why she'd want to write about concrete. To many, it seems almost perverse to want to study the stuff that undergirds our everyday life. Second only to water in terms of global consumption, concrete remains either invisible in its ubiquity, or overly visible as it decays and threatens collapse. Concrete thus provides a timely and important corrective in its close consideration of the environmental effects of the material's production, while also helping readers understand the many ways concrete has shaped (and continues to shape) modernity.
Inspired by concrete's roots in antiquity, Soderstrom uses the classical elements of earth, fire, water, and air to organize what is otherwise a largely digressive and non-chronological study of concrete. While much of the recent scholarship about concrete comes out of the history of architecture (and is likewise written for that audience), Soderstrom is guided instead by a more general interest in the history and role of concrete infrastructure, particularly roads and dams, which is not surprising as the book grew out of research the author conducted for her earlier book Road Through Time: The Story of Humanity on the Move (2017).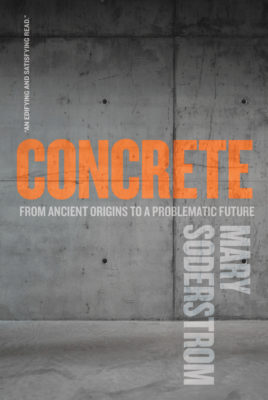 The book features a lively mix of field visits, interdisciplinary research, and personal anecdotes, interwoven with historical research and technical data. Soderstrom's recent visit to Quebec's brand-new McInnis Cement plant on the Gaspé coast frames the narrative, and functions to clarify the stakes around our continued dependence on this resource-intensive material, which is responsible for between four and six percent of the world's CO2 emissions (more if we consider the car culture it is partly responsible for).
Soderstrom paints a vivid picture of the reality of the plant's impact on its local surroundings, which is often in stark contrast with the company spokesperson's assurances of how clean the plant's operations will be and how little negative impact it will have on its surroundings. While the book eschews a geographical focus, preferring instead to jump around in space and time, here Soderstrom raises pertinent questions around Canada's continued investment in a non-renewable, heavily emitting industry such as concrete manufacturing. (As the book was just going to print as the COVID-19 pandemic hit, the author wasn't able to consider the effect that the current cycle of lockdowns might have.)
Soderstrom is adept at using personal anecdotes to bring her extensive research to life, from her postwar childhood in drought-ridden California to her move as an adult to Montreal. In one of my favourites from this latter period, she describes attending a party at Habitat 67 in the 1970s and being so charmed by the building that she briefly considered moving there (it was much more affordable then), though she was eventually dissuaded, as a "born-again pedestrian," by its distance from amenities. Similarly, there is something of the flâneur in Soderstrom's approach to her subject, which often wanders, but nonetheless manages to make surprising and interesting connections between seemingly disparate phenomena, from the year-round availability of broccoli in Montreal, to the effect of dam construction on the American literary imagination after the Great Depression, to the complex role that concrete has in the generation of "clean" hydroelectric development in China.
Despite the dry and often specialized nature of her subject, Soderstrom writes in an easy, conversational tone, even as she explains something highly technical such as cement manufacturing. Like her father mucking around with concrete at her childhood home, she takes the material out of the rarified realm of the professional, guided less by disciplinary propriety than her own intuition, memory, and interests. She doesn't offer any easy answers, but by making concrete accessible to more people, Soderstrom invites us all to become more aware of, and curious about, our increasingly unsustainable attachment to the version of the world that it makes possible. mRb