Hindsight is 20/20. Or is it, really? Do we ever truly get a clear picture, or are all views inherently variable, endlessly evolving in accordance with the viewer's vantage point? If history is a trustworthy example, much of what we hold true today will be found, at very best, naïve by future generations. At worst, our visions will be deemed offensive, oppressive, or even downright detestable.
Canadian poet and prose writer Duncan Campbell Scott (1862–1947), the primary focal point of Mark Abley's new biographical book, exemplifies the latter. While highly revered during his lifetime – he was a former president of the Royal Society of Canada, a founder of the Dominion Drama Festival, and an Honorary Doctorate recipient from Queen's University and the University of Toronto – Scott has since slipped down the slope from fame into infamy. With certain historians now linking him to the cultural genocide of Canada's Aboriginal peoples, his posthumous name has suffered severely.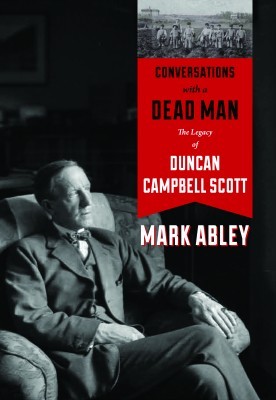 Conversations with a Dead Man
The Legacy of Duncan Campbell Scott
Mark Abley
Douglas & McIntyre
$32.95
Cloth
256pp
978-1-55365-609-8
 What caused Scott's vertiginous fall from grace? Certainly not his art. "As a poet, Scott could rise to empathy," Abley recalls, at a time when intolerance prevailed. The answer is surprisingly mundane: the writer's downfall was his day job.
Scott worked tirelessly for fifty-two years as a civil servant for the federal government, giving his days to the department of Indian Affairs at a time when, sadly, the government's views on "Indians" were clouded with colonialism. Starting out as a copy clerk, he worked his way up to deputy minister. Although he gained respect throughout his career, he descended into a demonic doghouse as subsequent generations clued into the consequences of his department's aim: to assimilate First Nations peoples into mainstream Canadian culture.