"I know I'm being illogical, cantankerous, and quarrelsome. I know I'm unreasonable and infantile. I know, yet I continue to sob…. And now it is my turn to smile through tears as I repeat, 'Maybe there are no modern mothers…'" – Shulamis Yelin, "No Modern Mothers"
Maybe there are no modern mothers, indeed. After all, the archetype of the brilliant yet violently unbalanced mother is at least as old as Medea. The "crazy" mother is a powerfully resonant (if highly problematic) figure; there is something about her that we love to hate in literature and in life. As a writer and therapist, I find her again and again: in the texts I read and write, in the stories of my clients, and in my own family history (I defy you to find me a single family tree without a troubled mother ensconced somewhere in its branches, hanging upside-down like a bat). My own grandmother was known to slam her daughters' hands in drawers, run shrieking through the streets of small-town British Columbia in her nightgown, and make death threats to children – how's that for mommy issues?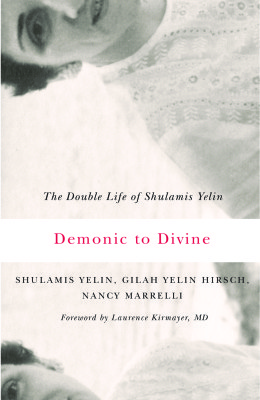 Demonic to Divine
The Double Life of Shulamis Yelin
Shulamis Yelin, Gilah Yelin Hirsch, and Nancy Marrelli
Véhicule Press
$20.00
paper
224pp
978-1-55065-383-0
Reading
Demonic to Divine: The Double Life of Shulamis Yelin
, an (auto)biography of the titular Shulamis – author Gilah Yelin Hirsch's mother and an almost-famous Montreal writer – compels reflection upon motherhood, mental illness, and the links we tend to draw between them. The book compiles diary entries and autobiographical writing by Shulamis, a brilliant and charismatic woman who was once the toast of Jewish Montreal. She was also, to go by Hirsch's commentary, a tempestuous and at least occasionally abusive mother.
Demonic to Divine
contemplates an old question: How do we forgive our crazy mothers? Adding a follow-up from a feminist perspective: is it mental illness that ruins mothers, or does motherhood – and, indeed, womanhood – in a patriarchal society make women crazy?
"I don't want to live a life through my children – I want to live my self, fully." Shulamis Yelin recorded this thought in her diary in 1938, echoing Ibsen's neurotic Nora, the mother who emancipates herself from house, husband, and children in A Doll's House. It's ironic then, that it is Shulamis's daughter's efforts that have brought her posthumously back into the public eye. In her long life, Shulamis was a force to be reckoned with, striving for recognition as a literary artist at a time when only men were considered great writers (some would say not much has changed). Her endeavours were occasionally rewarded: Nobel laureate Saul Bellow favourably reviewed Shulamis: Stories from a Montreal Childhood, describing her writing as "a kind of nostalgic ecstasy."
One wonders if Shulamis's identity as an independent, liberated Jewish woman in twentieth-century Montreal contributed to her lifelong sense of displacement, depression, and disconnection from society, which is well documented in her diaries:
There is something in the night that just wearies out my heart with its heaviness and beauty and its silence. If the scream that lies choking in my soul could but escape and free me from this spell, I would wish to pass away from all there is in life. This stifling beauty throbs with wordless stories.
There is something hauntingly universal about Shulamis's private writings, published for the first time in Demonic to Divine – as if she is giving voice not only to her own longing for fulfilment but also to the rage of other strong-minded women of her time, still restricted by the boxes of oppressive gender roles, a fate enough to drive anyone mad. Even today, women are overwhelmingly represented in mental illness statistics for all but a few diagnoses; even today, women are haunted by the stigma that accompanies mental illness, in no small part because of archetypes such as the "crazy mother" (and its attendant tropes, the "crazy girlfriend" and "crazy wife"), which all too often serve to caricature strong-minded women as bad mothers and hysterical harridans. The curse of the crazy mother thus becomes a self-fulfilling prophecy – if a woman is wilful, she is treated as mad, and is thereby driven to acts of violence and madness.
Near the end of her life, both Shulamis and her daughter seem to have made steps toward reconciling their conflicting realities of mental illness and motherhood. Instead of rejecting or redeeming her mother's character, Hirsch gives us this double portrait of her mother as at once demonic and divine. Shulamis seems to have embraced her demons, refusing the idea of being "cured" by the therapies available to her at the time of her most acute crises. On electroshock therapy, she wrote:
A terrible indignity to impose on a person … the ultimate punishment, the rape of the ego! How guilty can one be?! Somehow, one almost feels one has a right to one's own devils. Why exorcise them?!
To read Demonic to Divine is to bear witness to a process of remembrance and healing that refuses to either condemn or exonerate this particular "crazy" mother. The book prompts contemplation on the political implications of mental illness in a world where sexism and other social oppressions prevent individuals from flourishing to their full potential; it's also a reminder of the many forgotten "crazy" women writers who fairly litter the Canadian literary landscape (the once-celebrated poet and CBC broadcaster Mona Gould comes to mind). In the end, perhaps, it is not up to us to forgive our crazy mothers, but to accept them for who they are – in all their flawed, yet complete, humanity. mRb