Georges Sioui's Eatenonha: Native Roots of Modern Democracy promises to retell the history of Canadian democracy by tracing its origins back to Indigenous confederations that pre-existed the arrival of Europeans. It's an exciting promise. Closely related to this effort is a second goal, which is to challenge the Canadian textbook histories that he finds grant an outsized role to the Hodenosaunee Confederacy and ignore the Wendat Confederacy almost completely. (Textbooks typically misname these groups, calling them the Iroquois and the Huron, casting the former as war-mongering, the latter as docile, and their conflict as inherent rather than due to colonial meddling.)
Sioui is Wendat and a direct descendant of the Seawi Clan who, centuries ago, were counted among the Royaner or Guardians of the Law of Peace in the Hodenosaunee Confederacy. Until 1904, his ancestors lived on a reserve that had successfully refused the imposition of colonial control by church and state. His mother, Éléonore, was the first Amerindian woman to graduate with a PhD in First Nations philosophy and spirituality, and Georges was the first Indigenous person in Canada to earn a PhD in history. Eatenonha shares intimate portraits of their remarkable lives: the moments of struggle, endurance, bravery, and defiance. We learn about the landmark Sioui case, which saw Georges and his companions taken to court for camping out on the land that the Quebec government unilaterally appropriated in 1904, and hear about their Supreme Court victory.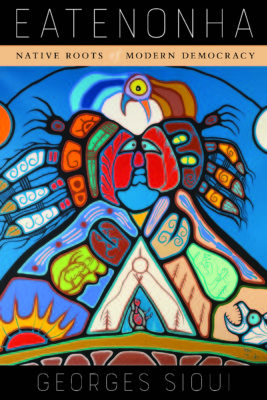 Eatenonha
Native Roots of Modern Democracy
Georges Sioui
McGill-Queen's University Press
$34.95
cloth
200pp
978077355693
The book is made up of original writing, poetry, unpublished conference papers, and already-published excerpts from his previous books. The chapters are punctuated by personal reflections and diary entries, such as this one from 2007 – "I am a highly important person. I am, I believe, the only human being able to reveal and explain the true thread of the history of this country, of this continent, of our indigenous world." These mean that while the book certainly fulfills many of its political and historical ambitions, the work ultimately reads as the story of seventy-one-year- old Georges Sioui, according to himself.
Eatenonha distinguishes itself from other recent historical revisions because it is surprisingly reactionary.Illustrative of this are his reflections on Canada, which Sioui wavers between describing in terms benign – "our motherland, our Eatenonha," – and superlative – "the world's best and most beloved country." I had expected the origin story of Indigenous confederations to put the idea of Canada to the test, but instead Sioui aims only to ensure Canadians recognize that it was the Wendat Confederacy that provided the democratic example for Canada, not the Hodenosaunee Confederacy.
Sioui doesn't reject the idea of Canada, nor even of European influence. He is a proud polyglot and writes that, "to us, First Nations of this 'New World,' there are four Americas; one for each of the four European languages that have taken root here on our soil and that enable us to communicate [… the] English, French, Portuguese, and Spanish." In a similar moment, says that his "ancestors were true Christians because they assisted one another and were too busy observing and protecting Nature to make war between themselves." Far from writing a book that would challenge the Canadian state, Sioui has written one that maintains the foundational structures of Canada that were responsible for the oppressions of Indigenous peoples on this land, namely Christianity, Europeanness, and the nation-state. The thinking in Eatenonha seems very out of step with contemporary Indigenous reflections on settler colonialism – which identifies the contemporary Canadian state as a colonizing nation – and with the Indigenous renaissance more generally. It's not a bad thing, necessarily, since more voices creates for more robust positions, ultimately, but it was a surprise all the same. mRb