"What is writing after all," Isabel Allende once asked, "but an attempt to sort out the confusion of life?" She further observed, "For those without roots in a place, memory is essential to maintain a sense of continuity."
Allende's reflection aptly applies to Cora Siré's Fear the Mirror, a collection of memoir, stories, and essays that transports us from Tallinn to Montevideo, Montreal to Buenos Aires, Ottawa to Salta. We travel the rough road of Siré's life and imagination, peeking through windows and doorways hoping to catch a glimpse of the elusive poet through flashes, fleeting reflections off shards of glass.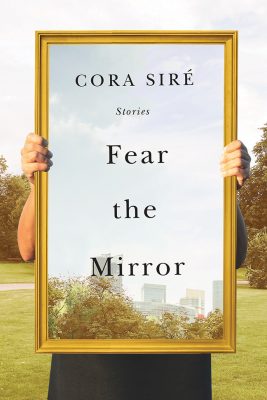 Combining first-person autobiographical tales with third-person bio-fiction, aided by a few essays thrown in to flesh out the slim volume, the collection resonates with childhood recollections, poetry, historical references, and intriguing characters, not the least of whom are a strong-minded mother and an elusive grandmother. The memoirist narratives in this collection are rich in rhythms that reveal lives complicated by war, displacement, and immigration. Whether she wants to or not, Siré, the perpetual outsider, carries her history, conspicuous by her otherness in every country in which she finds herself.
The reader's journey begins with three stories about family, most particularly about the women in Siré's early life: her formidable, sassy mother, a headstrong but shadowy grandmother who while living in Montevideo is shot by a man in a sensational murder-suicide, and an exotic aunt from Beverly Hills, Siré's only relation without an accent, who never forgot how to have fun.
I was so enthralled by the stream of childhood memories that the fourth story, "The Mark," written in the third person, proved a disappointment. The tale follows a young university student in Ottawa who successfully earns her pocket money by hustling games of backgammon. Her unsuspecting marks always lose, giving her a false sense of invulnerability until she herself (unsurprisingly) falls victim to a hustle.
In "Rasputin Red," one of the most successful short stories in the collection, Lazarus is a collagist, employing shards of paper in his creations. He is championed by the Planes, a wealthy couple who take him under their wing and offer him a space – over their garage – in which to live and work. While he is exploring his life, piecing together fragments of memory to feed his art, the Planes are like tinted windows, reflecting the outside world but revealing nothing of what is going on inside.
Although the collection follows a loose chronology, the story variations leave a lingering sense of wanting more memoir, more of Siré's own story, as in the two that appear near the end.
At the outset, Siré shares that as a young girl, her desire to conceal her true thoughts began at an early age. She practiced backward writing, visible only when held up to a looking glass. "I never regard myself in these moments before a mirror. I don't care how I look. It's my secret writing I want to see. The thrilling reflection of my hidden self."
What stymies her ambition is that although hand mirrors or their shards are prized possessions, "I can't get away with storing pieces of broken glass in the pockets of my shorts…" Only now has she found a way to save these secret shards, these fractured reflections, by scattering them through this resplendent, yet enigmatic collection.mRb