"So here it is. My friends call me he, or they. The government and most of my family call me she. The media calls me she, because I don't trust them enough to request that they do anything else. My lovers call me sweetheart. Or baby. Somewhere in all of that, I find myself. These are, after all, only  words." Ivan E. Coyote, Gender Failure 
Though I have never had the pleasure of formally meeting Gender Failure authors Rae Spoon and Ivan E. Coyote, their voices and stories feel as warm and achingly familiar to me as those of my own family members. We share a certain kinship, in the sense that transgender and genderqueer individuals in North America are bound together by experiences of marginality, of gendered violence, of living and dying at odds with the categories "male" or "female" imposed on us at birth. For the luckiest among us – that is to say, those who survive – these shared experiences also grant us a community in exile, a kind of chosen family: bittersweet, fractious, and often dysfunctional to be sure, but family nonetheless. At our worst, we are at each other's throats, fighting for scraps of freedom tossed from the table of the "LGBT rights" movement. At our best, we live, love, and mourn as one.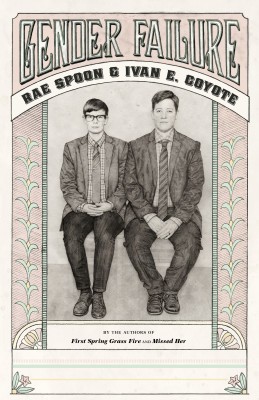 Gender Failure
Rae Spoon and Ivan E. Coyote
Arsenal Pulp Press
$17.95
paper
256pp
9781551525365
Based on a live storytelling and musical performance show that Spoon and Coyote toured across North America and Europe,
Gender Failure
is a tender evocation of the trans and queer communities at their best, worst, and everything between. Made up of letters, personal essays, song lyrics, and photographs, the book is a promise between its co-authors. Coyote writes: "Rae and I vowed to write [a work] that would shine a light on our true trans selves … to create a space together to be brave inside of, and we made a promise to place our deeply personal and individual truths on the dashboard as our compass."
Spoon and Coyote live up to this promise. They explore with gentle humour and poignancy such intimate topics as burgeoning sexuality and gender dysphoria in childhood, experiences in mental health care, coming out (and coming out again), gender normative washrooms, and top surgery. Spoon, a noted singer-songwriter and composer, complements veteran author and storyteller Coyote's trademark tongue-in-cheek wisdom with a literary voice as soulfully earnest as their acclaimed folk songs. Both authors' backgrounds as entertainers shine through in Gender Failure; their prose is unpretentious and easy to read.These are stories from the kitchen table, from truck stops and basement dive bars, from long road trips and battered rocking chairs.
To most readers outside the queer and trans communities, the novelty of Gender Failure is no doubt its nuanced yet accessible glimpse into the complexities – occasionally hilarious and often harrowing – of life in the margin of gender norms.To those of us inside these communities, Spoon and Coyote stand tall as part of, as elders of, a growing legacy of queer and trans artists and writers; the stories they offer are anything but novel. Spoon's account of struggling with body dysphoria, choosing between hormone replacement therapy and preserving their singing voice, and ultimately "retiring" from the gender binary, is at once a unique personal narrative and the ongoing, exhausting journey that all trans individuals undertake in coming to terms with the complex relationship between identity, body, and socialization. Coyote's description of undergoing a psychiatric evaluation in order to qualify for top surgery is a heartbreakingly funny satirical commentary on the medical establishment's violently inept approach to trans people's health care. Gender Failure thus offers the reader a rare and necessary vision: a reflection of the marginalized through our own, rather than the mainstream's, eyes.
It would be a mistake, however, to construe Spoon and Coyote's reflection of transgender lives as wholly representative of the trans community. Indeed, the authors themselves make this clear, reminding readers that their lived experiences are just that: the limited, real experiences of white, trans-masculine individuals. Still, for this Asian, transwoman reviewer, the fact that out of some thirty-odd stories about queer and trans people, only two prominently feature a transwoman – and none feature trans people of colour – is worthy of mention.The authors acknowledge this lacuna and the fact that transwomen of colour, within the broader trans and queer community, inhabit what amounts to a state of emergency in terms of violence and barriers to social services and public health; yet this eases only a little the bittersweet reality it evokes. But then, this is the nature of family and community, much like Gender Failure itself: flawed, bittersweet, and beautiful throughout. mRb