Contrary to what one would expect from the title, Home Sickness is not a work that unfolds in a diaspora setting, away from "home." This short story collection by Taiwanese-Canadian author Chih-Ying Lay is set in Taiwan. The book was first published in Mandarin in 2008, when Lay was just twenty-seven, which was also the year that he came to Canada to do a PhD in Microbiology at McGill University.
Many stories in this collection centre around family relationships: a man and his cousin who is a revolutionary; a village boy and his father who works out of town and finally takes the child with him; two very different grandchild-grandfather relationships; a story where several members of an extended family return to the narrator's grandfather's apartment, now fallen into disrepair, to claim some heirlooms before the State takes it over.
The thread running through all of these is the complexity of human relationships and behaviour, which Lay depicts with great power. Says the protagonist of "Scutigera: A Transformation Tale": "If only human relationships were as easy to explain as the phylogenetic relationships between species! With people, it's impossible to predict who you're going to take after or feel close to."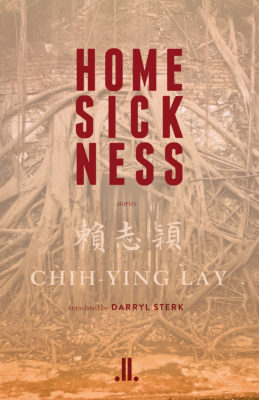 Home Sickness
Chih-Ying Lay
Translated by Darryl Sterk
Linda Leith Publishing
$21.95
paper
220pp
9781773900445
"Silent Cicada" is a portrait of a school bus driver, a "dirty old man" and loser. Lay skillfully renders his inner and outer world such that the reader ends up empathizing with him. Some stories delicately depict child sexual abuse, without resorting to reassuring categories of devastated victims and evil perpetrators. All in all, Lay succeeds in creating multidimensional characters from different walks of life.
Certain motifs, like music, recur, bringing richness and depth. It is central to "Quartet," the tale of an unrequited romance between two music students studying in the United States. Here, the two main characters communicate through the language of music as it forms a thread that stretches between them. In another story it is used to illustrate a friendship that begins at school and endures:
The concert band was at the centre of our lives in high school, our classes secondary. Most of our leisure time was spent in group practice and individual practice. You lived closer to school than I and got there early. Every morning, I'd stumble through the gate with sleep in my eyes, but I had only to cross the field and I'd hear your French horn resounding over the campus, awakening every tree and herb – and my heart. It was invigorating. I'd rush to the activity centre, sparrow-like, and prepare for the morning flag raising, at which the band would play. And after practice, at the end of the day, the sound of your French horn would follow on the breeze, sending me off. It was such a blessing to spend my days with you and our music-loving classmates.
The different narrative styles and formats the author employs make the book original and inventive. Lay's writing style is also varied and keeps the reader engaged. From poetic to raw, straightforward to evocative to philosophical and almost ethereal. One example of poetic prose:
Imagine me standing astride two shallow stones in a stream, with the flowering tung trees, their white blossoms like snow in May… I am trying to frame the scene so that the breeze-blown petals will float past me like little boats, each carrying a note in my melody towards the ocean…
When I started reading the first story, "Red Dragonfly," which starts and ends with a cadaver on a dissection table, the COVID 19 pandemic raged outside and I wanted something less dark. Though this is not an easy book in multiple ways, I am glad I kept going. I was well rewarded. The stories in Home Sickness, providing a rare and precious glimpse of literature written in Mandarin and set in Taiwan, will stay with readers for a long time.mRb