In her preface for I Want You, a retrospective collection of her early, pre-semi-fame series of mini-comics, Lisa Hanawalt writes, "I try to avoid looking back at old work. It feels like taking a shit and not flushing it. I'm sorry that's so rude, but it's true!" For those who've yet to encounter her work, this line nicely encapsulates Hanawalt's vibe: frankly weird, a bit gross, and somehow compellingly vulnerable because of it.
This prolific cartoonist has achieved a lot since creating I Want You, the work that set her career in motion. As production designer and co-producer of Netflix's Bojack Horseman, Hanawalt designed the show's characters and aesthetic; she later created her own show, Tuca & Bertie, and she scooped a James Beard award for her illustrations in Lucky Peach. She's published a slew of well-received collections, including kids' book Benny's Brigade, graphic novel Coyote Doggirl, and two hilarious collections of shorter works, My Dirty, Dumb Eyes and Hot Dog Taste Test.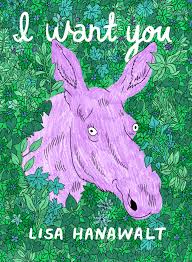 I Want You
delivers a peek at early iterations of Hanawalt's enduring fascinations – anthropomorphic smut, free-association sandwiches, fantastical afflictions, animals in dadaist headwear – and revels in her command of the absurd listicle. The look of the black-and-white comics flips between styles, from crisp, intricately loopy colouring book-style line drawings in ink to nuanced greyscale watercolours to crudely executed sketches.
Hanawalt's violently surrealist comedy bits and horny visual gags succeed thanks to her masterful execution and the oddness of her sudden, surprising, laugh-out-loud punchlines. I Want You offers both fans and the uninitiated an intriguing peek at the early work of one of the most distinctive minds in comics today.
***
Adrian Tomine opens his latest best-selling book with an epigraph from Daniel Clowes on being a top cartoonist: "That's like being the most famous badminton player."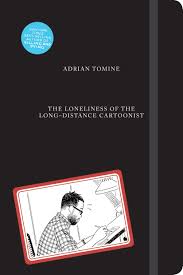 The Loneliness of the Long-Distance Cartoonist
Adrian Tomine
Drawn & Quarterly
34.95
cloth
168
9781770463950
The Loneliness of the Long-Distance Cartoonist
is a comic autobiography – both a memoir in comic form, and a retrospective of a life making comics – beautifully packaged in a faux Moleskine notebook on squared-grid paper. Tomine presents slices from his 20-plus years as an artist and fan in cleanly drawn ink vignettes, homing in on his gaffes, anxieties, and critics as he looks back on his (objectively pretty stellar) career.
It begins with Tomine as a child starting at a new school, where he's mocked and bullied for being a comics nerd. From there, he jumps into his early career, conducting the reader through several decades of petty professional gripes and humiliations: dismissive reviews, underwhelming readings, bad interviews, unfavourable comparisons to his heroes, the enduring popularity of Neil Gaiman. He pokes fun at his own hubris as his profile rises in a relatively marginal field – the vanity of the star badminton player in a world that mostly cares little about badminton.
The Loneliness of the Long-Distance Cartoonist begins as just snapshots of the artist's emotional relationship with his art, but a more fully fleshed-out life creeps into the margins as Tomine meets and marries his wife, has two daughters, and grows up. While he still dwells on awards unwon and being upstaged by Khloé Kardashian at a book convention, his attention turns increasingly toward his family as the locus of his self-image and self-esteem.
Over the career he reflects on, Tomine has perfected stitching together a story in brief sketches, and his pacing here is immaculate. It's not until the very last chapter that all the pieces click into place to show readers how his blush-worthy litany of trivial slights has set up the money shot (no spoilers here).
The Loneliness of the Long-Distance Cartoonist and I Want You are works by artists at the height of their careers and powers. Both are comfortable in the genres they've carved out for themselves, and established enough to look back on their growth in the funny papers with all the confidence and ease you'd expect of two world-class badminton idols. mRb