The epigraph to Jon Paul Fiorentino's I'm Not Scared of You or Anything is a quotation from comedian Andy Kaufman: "I never told a joke in my life." It's a code of conduct Kaufman undoubtedly followed. He was a prankster and a trickster – audiences sometimes wouldn't know whether he was performing or not. His characters were strange and childlike, uncomfortable, completely open … and funny. The characters that populate Fiorentino's new collection of short stories are not unlike Kaufman's personas: the misfits, the absurd, the broken-hearted, and the anxiety-ridden.
Fiorentino borrows Kaufman's method of bringing his characters to life but then gently pushes them one step further: over the top. In the titular story, our main man professes loyalty to an ex-girlfriend who hasn't altogether disappeared from his life:
If you don't want me in your life then perhaps you should not go to the bar where I always am. Anyways, I was pretty nerve-wracked to see your weird face, Ingrid. It was only the second time I have seen your weird face since you returned from your work assignment in the United Arab Emirates, and it has been hard for me to come to terms with the fact that you are here, but you are not here with me.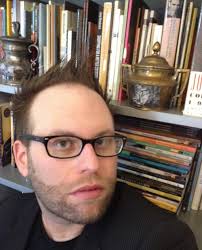 I'm Not Scared of You or Anything
Jon Paul Fiorentino
Illustrated by Maryanna Hardy
Anvil Press
$20
paper
176pp
978-1-927380-94-9
Although the protagonist continues to experience intimacy with the object of lost love, the detail Fiorentino gives in fleshing out a phantom love borders along the lines of being slightly extraneous or even excessive. But is it?
Another example is in "Pen Pals," a series of letters between characters Winston Carberry and Constance Waterfield. The lovely prose highlights the art of letter writing, as well as Winston's ability to say things that are easily misinterpreted.
Dear Constance,

I would like to take this opportunity, as I put pen to paper for the second time in the name of our correspondence, to clarify that, indeed, and without fail, I do not have any sexual predilection toward the youth of my nation, or any nation for that matter. I simply have a desire to keep children, particularly the shy, timid and weak ones from being hurt.
Winston goes on to talk about the importance of standing up against childhood bullying with a naïveté reminiscent of Kaufman's famed Mighty Mouse persona. Fiorentino's manner of giving details makes for a non-physical brand of slapstick humour, allowing us to laugh at the protagonist while receiving bits of wisdom. It's a technique that contributes to an overall narrative of subversion and humour.
In stories such as "It Seems Like Sex is a Weird Thing That Used To Happen To Me Sometimes" (in which the protagonist's namesake is legendary guitarist Johnny Marr, of The Smiths), the bande dessinée "Critical Theory Archie," the illustrated "Teen Wolf Quotes Slavoj Žižek," and "Mr. Spock Says Things From Episodes of Girls," Fiorentino appropriates pop culture and academic theory and uses them as a framework for telling stories. His approach makes for a cohesive literary pastiche and Maryanna Hardy's beautiful and strange illustrations tie the entire package together.
Fiorentino uses narrative as a device for subverting normative tropes about people who are outsiders, who are lonely, who suffer from deep insecurity, anxiety, or depression. The final entry in the book – a straight-up conversation between Fiorentino and his mother – illuminates the space of acceptance his parents created for him growing up as a self-proclaimed weirdo.
Fiorentino smartly and brightly facilitates the reader's journey into his mind. He has a talent for pointing to profound topics on being and belonging, evoking empathy in the reader, and getting a laugh at the same time. The author does as Andy Kaufman did when, performing as Mighty Mouse, he said, "I'm not sure if you're laughing at me or with me." And everybody really laughed.