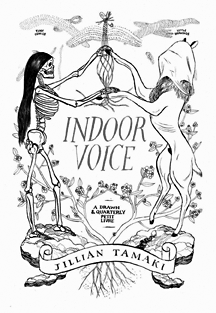 Indoor Voice
Jillian Tamaki
Drawn and Quarterly
$11.97
paper
96pp
978-1-770460-14-0
Hirsute women and a disdain for city life permeate the pages of Jillian Tamaki's
Indoor Voice
. This comic scrapbook is so varied and disjointed at times that it feels like the artist took out a drawer full of random doodles, dumped them on the desk and made a book out of them. You can, however, learn a lot about a person by examining the images and words they casually put to paper, the bits of themselves that just seem to fall out.
In Indoor Voice, for instance, there is a palpable tension between the city life Tamaki obviously feels trapped in and the communion with nature she romanticizes. A series of four-panel comic strips dubbed "Brooklyn Follies" shows such things as a woman complaining to a bus driver about someone jerking off, a guy sleeping on a bench who wakes to take a leak on a fence, and a guide to understanding the honks of NYC cars. In the author's notes, Tamaki says that it took her three years to get comfortable living in New York City. "Now when I see people behaving badly in public, as New Yorkers are wont to do, I proclaim loudly, 'Aww, Jersus, Cawmonn!' instead of going home and crying."
The image of a strong older woman, often naked and hairy, who is aligned with the natural rhythms of the world, comes up numerous times. She is a stoic figure who is untouched by the anxieties of metropolitan life. These and the wildlife drawings seem to have a serene quality that juxtaposes keenly with the anger and frustration found in the urban illustrations.
This collection is an awkward introduction to an artist, but it shows a fair amount of range and has personality. It's a snapshot look at an artist's process; one that sparks an interest to see what her more refined, finished products look like. mRb