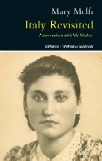 Italy Revisited: Conversations With My Mother
Mary Melfi
Guernica Editions
$25.00
paper
326pp
978-1-550712865
In the memoir
Italy Revisited: Conversations with My Mother
, Mary Melfi takes up a daunting task: she sets out to mine her mother's memories about life in a medieval Italian town during the first half of the 20th century. More poignantly, as an immigrant's daughter, she attempts to construct a framework in which she can fit herself and her notion of where she comes from. The past, Melfi writes, "is like the North Star, helps one navigate; find one's way home." The memoir could just as easily have been subtitled "In Search of Me."
Mary Melfi and her family arrived in Canada as part of the wave of immigrants fleeing Europe after WWII. Left behind was the land (la patria), grinding poverty (la miseria), relatives – and family history, which children of immigrants, like Melfi, often push aside. But when an elderly aunt dies, Melfi decides there's no time to lose in capturing the past. It is no coincidence that Melfi begins resurrecting her family's history on Palm Sunday and, 71 conversation-like chapters later, ends it on Easter Monday.
Having grown up in Montreal as someone who fit into neither "founding culture," Melfi knows of the disconnect between generations and conveys it very well. For Melfi, as for many immigrant children, language and knowledge of the prevailing culture become weapons to beat off Old World ways. Acting as translators, children obtain a measure of power over their elders.
But the author has an agenda and, in a courtroom, Melfi's questions to her mother would be called leading. Sometimes, the voices of mother and daughter even become indistinguishable. As though unable to shrug off the role of translator, Melfi labours to give her mother's stories contemporary meaning by filtering them through the modern lens of feminism and a new-found pride in la patria. She clings to romantic notions about a way of life lost but for the stories she pries out of her mother. Unfortunately, Melfi's unwillingness to accept the realities of la miseria is too often an intrusion.
Melfi's mother is alert to her daughter's efforts and resists exploring her memories, especially when preparing dishes her daughter never had the patience to learn how to cook. "You're looking for beautiful memories but I just have sad ones," she says.
Without common terms of reference, Melfi's ability to translate grows harder. To compensate, Melfi – a poet and writer of fiction and children's stories – peppers the book with statistics, historical information, and personal observations. These take the reader away from the central relationship and the compelling flow of Melfi's lyrical style. Chapters reveal village mores, superstitions, the barter system, all the harshness of rural life lived in a stone cottage with no amenities and, always, the food that sustained daily life and marked feast days. Melfi even tosses in a few recipes for good measure. These sections are short and readable, when Melfi is not adding her own spin on every tale.
The book's main strength and main weakness both lie in its tension of viewpoints. In Italy Revisited, the clash of wills between daughter and mother limns the contrast between them as well as the pervasive regret on both sides over lost opportunities. It also poignantly illustrates why, as modern women, immigrant daughters have an additional handicap in understanding their mothers. "Am I writing non-fiction or fiction here?" Melfi asks. For the reader, her mother's life ultimately holds more fascination than Melfi's take on it. mRb