Turtles in Girdles follows a group of sea turtles on a deep-sea adventure as they search for the jellyfish and crabs that make up their diet. Unfortunately, their journey is interrupted by a dangerous encounter with drifting garbage, which threatens to leave them stranded and unable to resurface for air. But as they escape this crisis, they meet others along the way who are similarly trapped.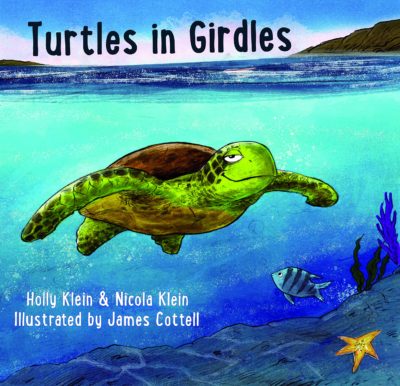 Turtles in Girdles
Holly Klein and Nicola Klein
Illustrated by James Cottell
Paper Dog Press
$14.99
paper
16pp
9781999225506
These interactions draw attention to the presence of non-biodegradable trash, like plastic bags, which pollute our oceans and cause severe consequences for marine animals. With some tension to lend the story a serious note of warning, the rhyming narration is soothing enough to be suitable for the youngest readers. The friendship that develops between different animals also emphasizes working together and helping out smaller species. Throughout the turtles' journey, these animals model the kind of consciousness and helpful behaviour that humans can aspire to in creating a less-polluted planet. The book also seamlessly integrates some fun facts about ocean life and ends with a list of actions and approaches that kids – and adults! – can take to help keep the seas clean.
***
In the delightfully imagined T-Rex Girl, a shy young girl discovers a way to speak out and connect with those around her. As Ting, she has trouble raising her hand in school, even though she knows the answers. She wants to join her classmates' adventures at recess but remains alone. But on costume day, she becomes T-Rex Girl and gains a lift of courage. When she zips into her disguise, she is able to participate in the world around her in new and exciting ways, sharing what she knows in class, diving fearlessly into games, and discovering new ways to have fun.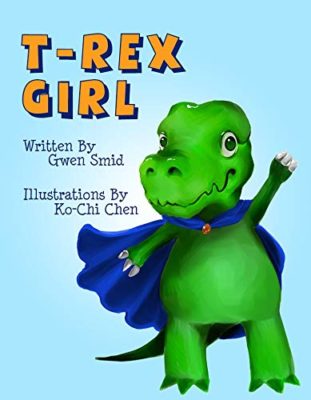 T-Rex Girl
Gwen Smid
Illustrated by Ko-Chi Chen
Peanut Butter Press
$19.95
cloth
24pp
9781927735589
One day, as she leaps into action to help a friend, Ting has to step out of her
T-Rex Girl
costume and realizes that her new-found strength comes not from her outfit but from her own inner character. This book offers a glimpse into the world of timid kids and the extraordinary ways that they are able to go beyond their comfort zones to participate in peer groups. It will resonate not only with young readers but also with the adults who encourage and support them through some of childhood's tougher moments.
***
The title character of What's Up Maloo? is a young kangaroo who loves nothing more than to hop around. But when the plucky little marsupial realizes that he is the only one of his kind, his joy quickly wears off. With his jumping days seemingly at an end, it's up to his friends to try and bring back his bounce. Using everything from fans to a trampoline-style blanket, they slowly but surely help Maloo to rediscover the happiness he had lost – and regain his hop along with it.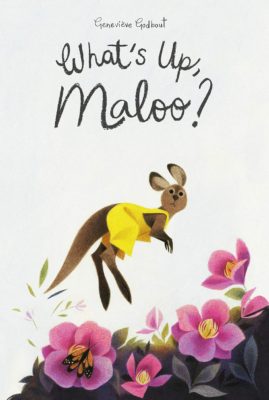 What's Up Maloo?
Geneviève Godbout
Tundra Books
$17.99
cloth
40pp
9780735266643
This beautifully illustrated story relies on sparse text to bring readers along on Maloo's journey. With a meditative mood that invites readers to explore a range of feelings – joy and happiness, as well as loneliness and disappointment – the book offers an emotionally engaging portrait. The primary message – that fun is best when shared – is one that children will intuitively grasp. The book's simplicity and soothing tone will be enjoyed by a variety of age groups, and its message of friendship and the importance of finding one's way is sure to spark conversation.
***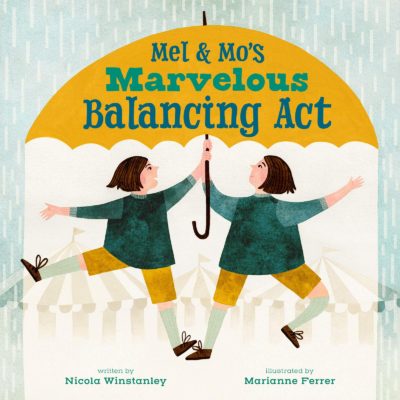 Mel & Mo's Marvelous Balancing Act
Nicola Winstanley
Illustrated by Marianne Ferrer
Annick Press
$21.95
cloth
32pp
9781773213248
I
n
Mel & Mo's Marvelous Balancing Act
, Mel and Mo are twins who begin life as a close-knit pair, then slowly grow apart and develop their own distinct approaches to navigating the world. As they age, their differences prove too significant to overcome, and they go their separate ways. While Mel tries her hand at the family's umbrella-making business, Mo joins the circus as a trapeze artist. But as time goes on, the world gradually loses interest in either of their crafts. Drawn together once again by these circumstances, they must learn how to lend their unique talents to one another. In the end, they discover that they each have the very thing that the other needs, and they learn to live together in harmony. This book serves as a wonderful reminder that, quite often, it's the very people we can't seem to agree with who make the best companions. It's also a beautiful exploration of the unique love siblings share, which is always layered with elements of annoyance and incomprehension. With gorgeous illustrations, it will transport young readers into a whimsical world of poodles, roller-skates, tightropes, and friendship.
***
In Rock Mammoth, Louis steps in front of his class to offer a show-and-tell presentation about a pet mammoth. But he has his work cut out for him, convincing his teacher and peers to take him seriously. In a rambling report, Louis manages to cover a lot of ground, from the lonely life of Voïvoden Mamouten, a fictional researcher, to his own dreams of becoming a renowned explorer, to his mother and father's tendency to lip-sync rock 'n' roll hits and dance wildly around their home. But what begins as a report on an extinct species and the research behind their discovery becomes a tale of drama and delight.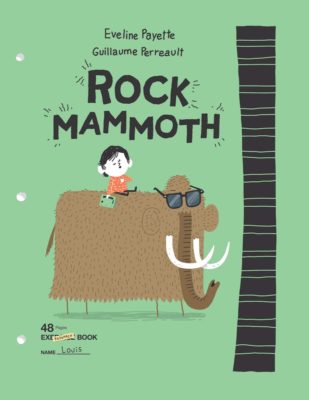 Rock Mammoth
Eveline Payette
Translated by Karen Simon
Illustrated by Guillaume Perrault
Orca Books
$12.95
paper
48pp
9781459824263
The narrative unfolds in a manner that perfectly captures the wonderful interweaving of anecdotes, information, and imagination that structure the curiosity of primary school-aged children. Combining a passion for scientific mystery and problem-solving with a generous dose of magical thinking, Louis is a well- crafted and dynamic character. It is no surprise that when the bell rings, his classmates all beg him to continue telling of his travels, which take him from the library to his backyard to a hockey arena in search of his subject. Combining humour, information, tall tales, and accessible comic-style drawings,
Rock Mammoth
is a sure hit.
mRb