Land for Fatimah is a powerful tale about land ownership, dispossession, power, and poverty told through the eyes of four women. Veena Gokhale approaches these beefy topics with such detail, sophistication, and delicacy that it is clear the story is deeply rooted in her own time working in a non-governmental organization (NGO) in Tanzania.
Readers concerned that a novel whose synopsis boasts of "capturing the warmth and vitality of Africa" will jar with the usual broad-stroke clichés about the continent need not worry. In the first chapter, Gokhale writes: "There is no such thing [as Africa], really, except that it loomed large in the minds of foreigners. Scores of countries, a thriving diversity, collapsed into AFRICA." No, indeed. This book is set in Kamorga, a peaceful yet poverty-stricken fictional East African country whose geography and complex history, politics, and language are expertly detailed.
The story centres around four brave, independent, and strong-willed women. Primarily, it follows Anjali, an Indian-Canadian single mother who has been posted to Kamorga on a year-long assignment for the NGO she works for in Toronto. There's also Grace, Anjali's severe and uncompromising Kamorgan boss, who is dedicated to improving education in her native country and otherwise maintains a lonely existence married to an absent husband. Mary, Anjali's maid, is desperately trying to find a new home for her ten-year-old son before she dies of cancer. Finally, there's Fatimah, the leader of a minority tribe forced by government officials to sell their traditional homeland to clear space for a cocoa plantation.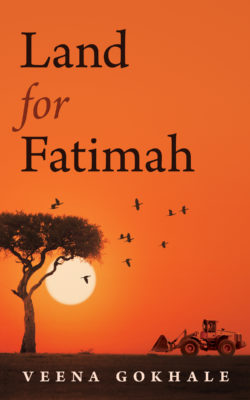 Land for Fatimah
Veena Gokhale
Guernica Editions
$25.00
paper
292pp
9781771832694
Fatimah's situation resonates with Anjali, who is haunted by the memory of the government-led demolition of the Mumbai slum where she volunteered growing up. She is also sensitive to the trials and trauma involved in leaving one's native land, having uprooted herself when she immigrated to Canada from India. She is determined to help Fatimah secure new farmland for her tribe from the government, much to Grace's displeasure.
The book provides a simultaneously amusing and damning portrayal of Kamorga's elite. Members of the expatriate community mark World Food Day with an event awash with brie-laden crackers, duck paté, caviar – and pamphlets touting the country's staggering rate of undernourishment, of course. Government officials are self-important, corrupt, and, according to Anjali, happy to carry on the legacy of colonial powers. Gokhale is kinder to NGO workers, deeming them well-intentioned while acknowledging that their work is bogged down by internal politics, acronyms, abstractions, and paperwork. Anjali becomes jaded by her time in Kamorga and the multiple barriers that block her quest to help Fatimah.
Gokhale's narrative is frequently punctuated by searing condemnations of the impact humankind's greed for land has on the poor, linking the struggle of Fatimah's community to razed slums in Mumbai and the ongoing abuse of Indigenous communities and theft of Indigenous land in Canada and the United States:
So much land and yet all this land hunger, a bottomless need that had always been there. India, Canada, Kamorga – everywhere the same thirst for land and the same practice of getting hold of it through any means possible, hoarding it, wrenching it away, denying it to needy people.
Masterfully weaving an important global narrative about the consequences of colonial, corporate, and governmental greed with a more personal story of working in an NGO in a foreign land, Land for Fatimah is a must-read. mRb