Sometimes things need to fall apart in order to come together. At least that seems true for Beatrice Rose (Bea), the heroine of Claire Holden Rothman's third novel, Lear's Shadow. As Bea pulls herself from the wreckage of a messy breakup and cares for her ailing father, readers are invited to contemplate the underside of social masks. 
On the day I meet Holden Rothman at the Westmount Public Library, the rain is relentless; street corners are swallowed by puddles, mirroring the stormy spring in her novel. Flashback to 2012: Montreal is howling, drenched to the bone in Maple Spring, a record-long series of student-led demonstrations to protest tuition hikes. The Westmount-born author remembers "a very young energy, and a very fed-up energy with the old guard," which struck her as the perfect setting for Lear's Shadow. Honouring Shakespeare's King Lear tragedy, her novel offers a modern twist on a timeless theme: tensions between grown kids and their aging parents.
The heath scene in King Lear, Holden Rothman points out, also unfolds in a storm. When it comes to good storytelling, evidently, wacky weather never grows old. "This is perfect for a novel," she says, "because you don't want a sunny day where things are calm and beautiful and nothing goes wrong. You want people to be on edge."
Bea has plenty of reasons to feel edgy. Pushing forty, this flat-broke yoga teacher is freshly separated from her long-term partner, the former co-manager of her waning yoga studio. She craves a fresh start, and so, despite her lack of related experience, accepts a summer job as an assistant stage manager on a production of King Lear, joining a company that brings Shakespeare to Montreal's green spaces.
Holden Rothman writes confidently about theatre in the parks thanks to real-life experience. "The idea [for Lear's Shadow] started in the summer of 2011, when I had just finished My October," she explains. "I was in a period of real doubt." Having sent an early draft of My October to her agent with the opinion that it wasn't working, she remembers feeling so exhausted that, despite her agent's reassurances, she actually considered leaving writing. So when her husband, actor and writer Arthur Holden, encouraged her to check out work in stage management, she did – a move that, ironically, got the ink flowing again.
"I wasn't that great as an assistant stage manager," she confesses, chuckling, "but what I came out of that summer with was a novel idea. So it sent me right back into writing." She remembers her summer with Repercussion Theatre fondly: "It was social, I was outside […] I did not look at a computer screen hardly, really hardly at all, for three months – it was a total break from what my usual life is. It was great, it was really good. And then the energy was back at the end of that summer. I was raring to go. I was like, 'do I have a story!'"
Proving that artists are often their own worst critics, Holden Rothman's My October went on to be short-listed for a Governor General's Literary Award, and, like her bestseller The Heart Specialist, long-listed for the Scotiabank Giller Prize. As My October gracefully nods to Gabrielle Roy's The Tin Flute, her latest novel also draws from a classic. But, as Holden Rothman explains, "in Lear's Shadow, it's more than intertextuality; [the work is] sitting on the foundation of Shakespeare's play." One of her favourite authors, she says, is Michael Cunningham (The Hours), known for building novels in relation to classics that are personally meaningful to him. "So I love that, and I love his work, and I thought, okay, let's see what that's like."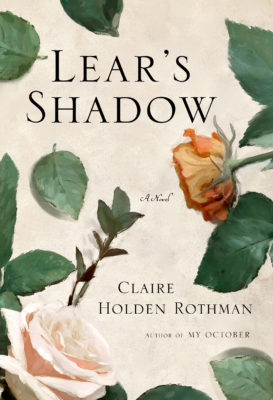 Lear's Shadow
Claire Holden Rothman
Penguin Canada
$24.95
paper
304pp
9780735234253
Rich in subplots, the resulting story stars a vast crew of characters that evolve and intersect in surprising ways. Reading
Lear's Shadow
is like holding a backstage pass to these characters' lives. Through Bea, the reader peeks behind the scenes of King Lear in the park, where real-life drama unfolds among the actors and crew. Meanwhile, the private lives of Bea's friends and family reveal themselves to be less than lustrous, contrasting with shiny social fronts, and recalling one of Shakespeare's themes in the play – the exploration of appearances vs. reality: "Bea hadn't made up her mind what Shakespeare was trying to say, but the play seemed to turn on the question of appearances and what, exactly, lay beneath." Facades melt in the spotlight of Bea's keen eye, and, as fiction and fact overlap, one is reminded of Shakespeare's recurring metaphor of the play within the greater play of life, expressed poetically in King Lear: "When we are born, we cry that we are come / To this great stage of fools."
In Lear's Shadow, filter-free scenes of aging lend the book an aptly tragic hue. Playing Lear, a hot-shot roué named Phil combats age onstage, while Bea's widower father, Sol, a regal business man, is diagnosed with dementia with Lewy bodies; this once elegant king in Montreal's garment industry metaphorically loses his crown.
Another influence, Holden Rothman adds in an email, was the 2014 National Theatre Live production of Lear, directed by Sam Mendes with Simon Russell Beale playing Lear. "Beale knocked my socks off. He really helped me understand the play deeply." She recalls an interview during intermission, in which Beale spoke of Lewy body dementia. Listing symptoms, he underlined how Shakespeare's Lear was like "a textbook example" of someone with this disease. "I was writing a novel about aging fathers and grown daughters, and this information was like a thunderbolt. It helped me."
In Lear's Shadow, old, unresolved hurts inevitably resurface as Bea watches Sol shrink into a shadow of his former self. Bea's sister (Sol's "super-daughter"), Cara, has good reasons – two kids, and a thriving raw-foods business co-run with her sexy husband – not to provide the live-in assistance Sol requires. So, single, childless (and, in her own mind, second-best), Bea bravely volunteers – a decision that brings her face-to-face with her own shadow in the Jungian sense. When Bea's painful memories (she's still hurting over childhood surgeries to correct a cleft lip) are amplified by violence in the outer world, she meets her disowned feelings head-on and through dreams, deepening her connection with herself and others. While her struggle is serious, ultimately, her breakup and subsequently broken routine are catalysts for growth.
Asked whether she was ever confronted by her own shadow while writing the book, the novelist laughs. "I'm always doing shadow work," she replies candidly, and proposes that, as a writer, it's natural to do so – that she needs to know her own life as well as possible so she can know or touch others. "And in a sense it scares me like it scares anybody to get up close to something that is a bit unconscious, but it also is the thing that I'm quite interested in doing. So, in a sense, there's a fearlessness because I know that this is just human […] and this is my job as a writer – to get to know human [nature] as well as I can."
By the time we leave the library, the rain has paused long enough for Holden Rothman to walk me through Westmount Park, one of many green spaces where she helped set up stage back in 2011 – that pivotal break from her writing that turned out to be a breakthrough. When the winds turn wild later that evening, I smile, remembering how enthusiastically the author (who's already working on her next novel) replied when asked if any roles in theatre, aside from that of assistant stage manager, had sparked her interest that summer: "Yeah, the whole creative side. […] It was so clear that stories, stories – that's what I'm interested in – people, stories!" mRb