After twenty-plus years as a teacher, critic, and all around appreciator of crime fiction, Quebec writer Jim Napier makes his own leap into the fray with his debut novel Legacy, a richly detailed and multi-layered mystery.
Set in London, the story finds police detective Colin McDermott investigating the mysterious death of a young woman who fell in front of a bus in a crowded public intersection. It seems like an accident, but a few details set off McDermott's suspicions, and soon he's investigating at St. Gregory's College, where the young woman recently enrolled. Putting together an investigative team made up of the seemingly incompatible Ridley, a crusty male officer approaching retirement, and Quinn, a smart young female officer, McDermott is soon facing a complicated web of possible motives and suspects, including one that reaches into his own past.
Napier is a writer with a great attention to detail, whether it's the history of the (fictional) St. Gregory's College, the characters' fashion sense, or the subtleties of the British class system.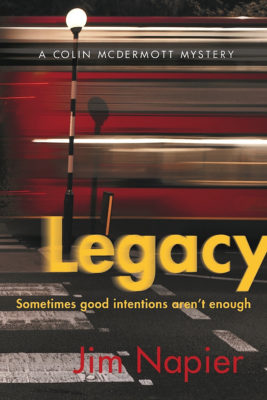 Legacy
Jim Napier
Friesen Press
$25.99
paper
318pp
9781460299760
As befits his long teaching career, he's also a keen observer of academic life, and his professor characters – who soon make up the bulk of the suspects – are brought to life with all the pretentions, careerist scheming, eccentricities, and petty rivalries that academia entails. These characters are also an opportunity for Napier to lay out an epic buffet of red herrings; this is an old-school whodunit that misdirects the reader at every turn, so that any number of characters appear to be prime suspects at a given moment.
The first in an intended series, the book teases out McDermott's character with some intriguing notes that Napier no doubt plans to develop in future volumes. McDermott is the widower of a wife killed in a terrorist attack, the father of a grown daughter, and a cultured aficionado of art and classical music. McDermott is no hipster punk detective à la Jo Nesbo's Harry Hole; his disdain for rock music and pop culture in general make him seem somewhat out of his time, but certainly give him definition as a character. Along those lines, the book's gender roles are somewhere between charmingly old-fashioned and hopelessly retrograde, with a lot of smartly dressed, feminine women and roguish "men of action." It's all done with a wink toward certain characters' out-of-date views, but the book's whole universe sometimes seems a good couple of decades behind the times.
As the title indicates, Legacy has an underlying theme about the long-term consequences of past actions, and the way our decisions at one moment can leave traces on the rest of our lives. Along with McDermott's lonely existence and the acute professional insecurities of the professors, it creates an undercurrent of melancholy at the passing of time and the bittersweet nature of aging.
Clearly an anglophile, Napier chews into the rich variety of London slang, idioms, and accents, particularly with the character of George Ridley, the aging officer whose folksy expressions are as old school as his social views and his work ethic. It's a fun portrait, but it made me hope that Napier, a regular visitor to our city as a veteran of Blue Metropolis crime fiction panels, might someday dig into Montreal dialect with the same flair.
Covering a lot of ground with his network of detectives, suspects, and other various minor characters, Napier weaves so many people through his story that I found myself occasionally flipping back through the pages to remind myself who was who. But ultimately, this complexity is what makes Legacy a page-turner that keeps the reader guessing until the very last page. mRb