I don't know what it is about whores. Or, more to the point, what it is about men who are obsessed with them, like Franck Robinson, the ne'er-do-well hero of David MacKinnon's Leper Tango, a title that goes unexplained during the novel's journey through various Paris underbellies. It's safe to say that being a whore is a miserable, violent, and degrading station, despite the great European tradition of romanticizing them – which was especially a nineteenth-century literary fashion. Nowadays, in the early twenty-first century, Franck Robinson's obsession is something of a puzzle.
And author David MacKinnon seems to know this, since he has his secondary characters question Robinson about his hang-up. A bit past the halfway point in the book, he has Tranh, a Vietnamese member of Paris' demimonde, ask Robinson, "What do you think lies behind your attraction to whores?" Robinson's answer is clear enough: "They don't require user manuals." These women are reduced to one particular part of their bodies, which is just all right for Robinson.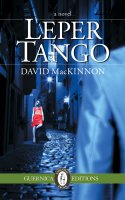 Leper Tango
David MacKinnon
Guernica Editions
$20
paper
302pp
978-155071367-1
 Of course his pal Tranh doesn't believe him, and neither do we. Tranh insists that Robinson is acting the way he does because he's wrestling with his own eventual death, or he's on the run from himself, or missing some essential part of his human makeup. This is pretty much the realm of popular psychology, and Robinson rejects it. He's a character without need of redemption. He tromps through Paris in search of Sheba, the whore of his obsession, making stops along the way for many of her sisters. And at the end, 300 pages later, he's off on another adventure, completely identical to all the others.
Current fiction is teeming with likeable ne'er-do-wells. Charles Bukowski set down a model that many writers, mostly male, have followed with a variety of results. While Bukowski had a sense of humour about himself and an occasional tenderness for the world, MacKinnon's character is just plain mean. No surprise there, given Robinson's occupation. Back in Canada he was a shyster lawyer specializing in personal injury suits, and not above ripping off his clients, who all richly deserved the treatment. No doubt there are plenty of people like him in this world, but I'm not sure readers will want to spend a lot of time with him.
MacKinnon's philosophizing tends to weigh down his dialogue, turning conversation into something closer to discourse. A few pages after his "user manual" answer, MacKinnon has Robinson and Tranh deep in conversation as they watch the murky waters of the Seine River (and a bald homosexual masturbating into the river, for good measure). "You seem driven by some need to penetrate to the inner enclaves of the world of vice, as if it will provide you with some answers," Tranh tells his companion. The first law of dialogue is that it actually has to be sayable, and many of MacKinnon's lines are on the wrong side of that law. Then again, maybe people talk that way when they gaze at the famous river.
When Robinson actually makes it with a woman named Caroline who's not in it for the money, the relationship doesn't exactly fly – but it does produce some moments of hilarity, intentional or not. When Caroline starts getting clingy, Robinson tells her, "We've known each other for four days. Don't expect commitment from me, baby." To which Caroline replies in a similar clichéd vein: "I can't live without you, Franck. I'll kill myself." Even more unforgiveable than the dialogue, Robinson, on the same page, dreams of washing down a filet mignon with Chablis or Sancerre. White wine with red meat? Sacrebleu! mRb