As Canadians, we pride ourselves on our national image as protectors of multiculturalism; H. Nigel Thomas's new short story collection Lives: Whole and Otherwise offers a bleaker picture of our supposedly progressive nation. Thomas presents poignant, blunt, and hauntingly heartbreaking accounts of members of the Caribbean community in Montreal, many of whom struggle with the physically and emotionally frigid conditions of their new home.
Thomas delves deeply into the underreported lives and diverse perspectives of those who face leaving a physically and emotionally abusive partner; the impoverished reality of dedicating their lives to activist causes; and the racist biases that are subtle enough to fly under the radar of government-imposed diversity mandates, but that still continue to oppress and hinder people of colour. As a result, Canada – specifically, Montreal – reveals itself as a cruel place where women of colour are fired upon suspicion, not proof, of theft and where a white depanneur owner can get away with shooting a black man. The unfair racial bias is chillingly expressed in "My People! My People!," framed in a newspaper article that uses a matter-of-fact tone:
"A poll conducted today in the Montreal region shows that the overwhelming majority of Mon- trealers support the jury's decision to acquit depanneur owner Felix Lukelsky of any wrongdoing in his alleged crippling of Jonathan Commisong when the latter allegedly stole a litre of milk from his store."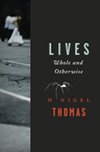 Lives: Whole And Otherwise
H. Nigel Thomas
TSAR Publications
$20.96
paper
160pp
9781894770613
With frequent use of present tense and the matter-of-fact description of everyday prejudices, Thomas's prose asserts that inequality and oppression are not things of the past.
But perhaps the most devastating issue Thomas depicts is the internal rift of the community, and the unwillingness of those within the community to help others – whether it's Percy, who succumbs to insanity because his religious sister will not accept his homosexuality ("Percy's Illness") or black community organizations that devolve into self-serving means to a capitalistic end ("My People! My People!"). Domestic abuse also makes a frequent appearance, creating an uncertain future for women who often appear helpless, yet unwilling to leave their violent present. Many antiracist discourses tend to gloss over the internal class differences or sexism within a community, but Thomas does not shy away from them here.
The uncertainties of relocation and migration are structurally reflected in the stories with frequent flashbacks that disorient the reader spatially and temporally – at times, a bit too much. Many of the stories do not "begin" or "end" in a narrative sense either; instead, the stories end as the characters begin to approach a resolution or as an existing conflict takes a new turn.
While many of the stories depict the negative realities of living as a racial and ethnic other, some do offer hope for a better future. There's the story of Mary Fellows, a sex worker of colour who organizes a political rally on St. Catherine Street ("Memoirs") to demand better working conditions for sex workers, and who uses the political and religious connections of her clientele to make a real impact. By ending the collection with "Spiders," a story about an energized though at times hostile discussion about religion and the Bible in a Grade 8 classroom, Thomas seems to offer a glimpse of hope that the next generation may be ready to treat diversity in a more progressive manner than the past ones.
In the same year the collection was published, an interracial couple in Nova Scotia became victims of a racially motivated hate crime as they woke up to a cross burning in their front yard. Thomas's collection is a sombre reminder of the long way Canadians have to go in creating the multicultural paradise that Canada often represents to outsiders. mRb