Catherine Leroux's latest collection of stories inhabits a profoundly enigmatic space. Each tale revolves around the imagined life of a real woman – the so-called "Madame Victoria," whose remains were found outside the Royal Victoria Hospital in 2001 and whose identity, despite thorough investigation, is still a mystery. Here, Leroux has taken this unsettling news bite as the starting point for twelve portraits of possible lives, each of which provides an alternate answer to the essential question: what turn of events could lead "a Caucasian woman of about fifty suffering from osteoporosis and arthritis-ridden joints but showing no signs of a violent death" to end up alone in the woods, with no one able to claim her as a missing family member or friend? Was she a bereaved mother who roamed the streets looking for her baby? An alcoholic journalist hell-bent on success? With each retelling, we are forced to imagine what the greatest reaches of solitude might be.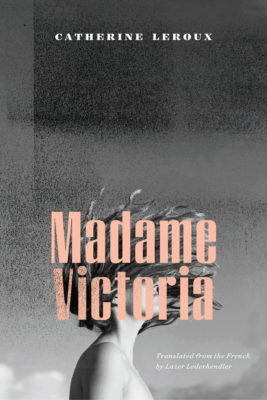 Madame Victoria
Catherine Leroux
Translated by Lazer Lederhendler
Biblioasis
$19.95
paper
240pp
9781771962070
The author notes in an interview that these twelve stories could be considered variations, as in the musical repetition of a theme that is stretched, tweaked, and brought into new forms through stylistic exploration. But at times they more closely resemble études, those short and often intense pieces meant to engage certain movements and develop technical prowess. While some stories remain steadfastly within traditional literary fiction, many take on more genre-driven characteristics, particularly notable in those that read like science fiction or fantasy. From romance to spy novels, the range is  ambitious, if the execution at times uneven.
A small but significant part of the book offers a glimpse into the lives of those affected by this unsolved mystery – Germain, the Royal Victoria Hospital nurse who discovered Madame Victoria's remains; Céleste, the officer who worked the case, hoping to find someone connected to the mysterious woman; Germain's daughter, who writes a report about the influence of Queen Victoria on the culture of the city. Each of these characters is haunted by the unresolved nature of Madame Victoria's death, and in reading, one has the impression that their morbid obsession stands in for the author's own fascination. Presumably, Leroux was deeply moved by the story of Madame Victoria – or rather, by the lack thereof. Here, as is so often the case in fiction, the imagination reinstates a life that has experienced profound erasure.
Throughout the book, the characters' obsession becomes our own, and it is not difficult to discern what holds such interest for us, or what Leroux meant to convey through each separate retelling of Victoria. The pages overflow with women forgotten, secluded, violated, discarded, disregarded, or pursued into oblivion. Is not the story of Madame Victoria simply a lens that shows the state of women in society? If Flaubert's famous declaration was that "Madame Bovary, c'est moi!" then should we presume, in this case, that Madame Victoria is all of us?
As a follow-up to her Giller Prize-nominated novel The Party Wall, this latest work reinforces Leroux's unique ability to bring unsettling moments to life, bending our sense of reality to accommodate all manner of strange possibility. In yet another masterful translation by Lazer Lederhendler, the reader is both swept away by the beauty of the writing, and captivated by the repeated unravelling of Victoria. mRb