The last thing one might expect upon diving into Mirror Lake, a novel by celebrated crime writer and two-time Governor General's Literary Award winner Andrée A. Michaud, is to double up with laughter. Yet everything is doubled in this metaphysical mystery set in the backwoods of Maine. Here, a fictional looking-glass lake casts back reality in satisfying streams of nonsense delivered by protagonist and unreliable narrator Robert Moreau, while extra splashes of hilarity hinge on clever puns and wordplay artfully translated by J. C. Sutcliffe. "Since when do murderers knock on the door before knocking you off," wonders Moreau, diffusing danger with silliness.
Which is not to say that Mirror Lake is shallow. Far from it. Dive deeper and you'll see that this paradoxical pearl is at once funny and sad, poetic and gritty, meaningful and absurd – each quality reflecting its shadow in a sophisticated existential swirl.
When newly retired, misanthropic Moreau settles on Mirror Lake, he's dead serious about finding peace in nature, far from all family and friends in his native Quebec. "'Hell,' do we need reminding, 'is other people,'" he reflects, borrowing a line from Sartre when a series of synchronicities conspire against his solitude.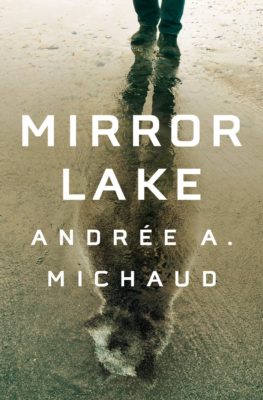 Mirror Lake
Andrée A. Michaud
Translated by J. C. Sutcliffe
House of Anansi Press
$22.95
paper
400pp
9781487005832
The first to break his bubble is Bob Winslow, a far-too-friendly neighbour from across the lake, who keeps popping by with drinks and freshly caught fish. Soon, morose Moreau (who insists on being called Robert, not Bob) can't help but notice striking similarities between himself and jovial Winslow. "If I hadn't felt about Bob Winslow the way any normal person would about someone suffocating them, I might go so far as to say we had a pleasant evening, sitting on the porch and discussing Victor Morgan, David Goodis, and Stephen King, whose shadow hovered over the Maine forests," Moreau concedes, irked by his doppelgänger's shared interests in cinema and literature.
Responding to a mysterious drowning on the lake, a pesky cop dubbed "Tim Robbins" by Robert and Bob adds to the hubbub. Meanwhile, lady of the night Lolita, whom Moreau rechristens "Anita Swanson" after film star Anita Ekberg, steams up the scene.
Throughout it all, possibly mad Moreau stirs elements from other books, songs, and movies into the story for a dreamy, film-noir effect. Jungian analysts, quantum physicists, animists, and transcendentalists will revel in this endless game of intertextuality as Moreau's life begins to mirror scenes from a novel Bob has gifted him, authored by the fictional Victor Morgan.
As fate and free will fraternize, Mirror Lake becomes more meditation on identity and the meaning of life than thriller. The question "who am I?" keeps resurfacing, while mirage-like answers ripple out of reach. One wonders: Is Bob just a projection of Robert's subconscious? Are parallel realities unfolding? Perhaps all one can trust is that the anthropomorphized "four-hundred-million-year-old rock" Moreau keeps talking to "will likely still be there even after the entire surface of the earth has been destroyed in a nuclear war or a Klingon invasion."
Another constant is the undercurrent of cosmic beauty that flows across the book's pages, transcending time and illuminating even the darkest nights of Robert's soul. "Today, all that remains to reconcile me with a certain vision of eternity are the stars, illusions among illusions," remarks the protagonist, poetic despite himself. Increasingly entangled with Mirror Lake's inhabitants, kindness threatening to infiltrate his broken heart, curmudgeonly Moreau makes one thing clear (at least to this reader, who reached the story's shores buoyant with mystery): life, infinitely playful and cinematic, loves to have the last laugh. mRb