For children, cartoon characters not only offer entertainment, but also provide a vision, however skewed, of the outside world. These cartoon heroes often serve as early role models, as in the endearing story of Mister Roger and Me, the translation of Marie-Renée Lavoie's award-winning debut novel. Set in the early 1980s, the story follows Hélène through her seemingly endless pre-teen years. The eight-year-old decides she wants to be called Joe because she assumes that life as a boy is better. It isn't because she is the second of four daughters, but because Hélène is enthralled with the cartoon heroine Lady Oscar, a military captain in Marie Antoinette's palace guards who conceals her female identity behind a heavy coat laden with medals and military insignia. For Hélène, Lady Oscar epitomizes courage, strength, and adventure.
Although our young protagonist tries to emulate Lady Oscar, her surroundings offer little in the way of a romantic, windswept setting. Her working-class neighbourhood is populated with psychiatric outpatients, welfare recipients, and her obese neighbours, the Simards. However, to Hélène, her surroundings are merely humble, not grim, and, inspired by Lady Oscar, she strikes out to find adventure in her tiny world. But instead of fighting for justice during the French Revolution, Hélène lies about her age and says that she's 10 to get a paper route, and then takes on a second. At the same time, a new boarder moves into the Simards' basement, a man by the name of Mr. Roger.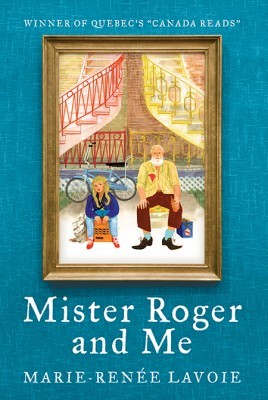 Mister Roger and Me
Marie-Renée Lavoie
Translated by Wayne Grady
House of Anansi Press
$22.95
paper
233pp
978-1-77089-202-6
 The new neighbour whiles away his days drinking beer in a wornout armchair, and, much to the chagrin of Hélène's mother, swears like a sailor. But beneath his rough exterior lurks a kind heart, and the ailing senior dispenses wise advice to Hélène, in addition to serving as the neighbourhood source for home remedies. A father of three grown children, Mr. Roger watches over Hélène and saves her from a fate that would have left lasting scars even on Lady Oscar.
Lavoie has beautifully captured those bright, shiny pre-teen years before the sordid side of human nature makes its unfortunate appearance. The use of Lady Oscar as a narrative device successfully brings the reader back to that tender age when performing an honourable deed was worth every last joule of energy. The first person narrative limits the reader to the world as seen through the eyes of a young girl. Unfortunately, whether due to the author or the translation, there are a number of passages with long-winded, heavy sentences that warranted a second read, thereby interrupting the flow of the story.
Originally published in French under the title La Petite et le vieux, Mister Roger and Me is a risky translation, as many will shy away from a story about a relationship between an
older man and a young girl. But the odd pairing of characters works in this book; Hélène and Mr. Roger complement each other. The outgoing innocent child needs Mr. Roger's guidance, and Hélène's optimism offers Mr. Roger some hope in the final years of his life. Funny and touching, Mister Roger and Me will remind readers of a time not so long ago when they were far more trusting of their neighbours. mRb