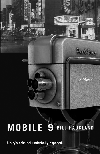 Mobile 9
Bill Haugland
Vehicule Press
$18.95
paper
216pp
978-1-55065-255-0
Bill Haugland's face is familiar to many Montrealers: for nearly three decades he was news anchor on CFCF TV's Pulse News. Now retired from Montreal's largest English-language television station, he has followed the maxim "write about what you know" – but with a twist.
Mobile 9 is a thriller that uses the island of Montreal as its backdrop, and depicts a fictional English-language radio and television newsroom during the troubled days of the late sixties. The FLQ is active, political turmoil is brewing, the Hells Angels and the Mafia have a stranglehold on illicit drugs and weapons trafficking, and the Sicilian branch of the Mafia is moving in on the existing dons and getting involved in legitimate business.
It's a steamy Montreal summer. Cameraman Greg Peterson has covered an overnight series of drug raids in the Eastern Townships, the biggest drug bust in years. Reporter Ty David has to write the story so it can be told in under a hundred seconds. A radio operator at the station gets odd phone calls while an up-and-coming local boxer is fighting a match. Across town, a woman is assaulted by someone in CKCF Mobile vehicle, and she fingers Greg as her assailant.
Greg is suspended during the investigation, and his colleagues work to discover just who was out with Mobile 9, and why Greg was falsely accused. The story unfolds with the identification of the victim as a Mafia lawyer and a close relative of a Mafia boss. After that, car bombs explode, bad guys are whacked, and the Hells and the Mafia create mayhem in a turf war. An ethical dilemma by the news director could put the lives of his newsmen at risk.
There are also stories of a domestic nature: Ty's wife is suffering from postpartum depression and self-medicates with alcohol. Greg's long-distance girlfriend believes in him when he finds it hard to believe in himself. These domestic dramas make it clear that not all the action happens in the larger world.
Mobile 9 is action-packed, and Haugland manages to give an all-too-real flavour of the times. Using the newsroom as a setting is a clever move: not only is it one that the author knows intimately, but it provides a reason why the reporters and newsmen know about a serial killed (the depiction of whom is chilling), and all the other crimes. It also explains why they get closer than they should to the Mafia.
Doubtless the newsroom in 2009 is not the same as that depicted in Mobile 9: no reporters sit around a long table, each with his own typewriter. But the excitement of the visceral reporting of 30 years ago is palpable in Mobile 9. Young anti-war hippie reporters clash with older, more traditional news directors. And everyone smokes.
Seeing the newsroom from the inside is fascinating since some things must remain the same: how the news is fashioned, what can be said safely and honestly, and what must not be said. The reader feels that he is getting the real scoop. mRb