The year is off to a good start for Monique Polak. Not only will she see her eighteenth, nineteenth, and twentieth books for young readers published, but she's also the first CBC/QWF Writer-in-Residence. For Polak, these are all opportunities to tell her stories. 
"Stories in the end are what I think matter most," she tells me on a blustery January morning in her cheerful Notre-Dame-de-Grâce dining room. Polak, who has taught at Marianopolis College in Montreal for more than thirty years, comes from a very social family. "I grew up around that. It was almost a currency in the household. It was like, 'Who's got a story?' 'What's your story?'"
Polak's books usually revolve around real places or experiences, though not necessarily ones she's already familiar with. She often learns more about them first for shorter journalistic pieces. That was the case for her new book Forensics Squad Unleashed (for readers aged 8–11), which follows a group of young sleuths at forensics summer camp who work to solve a dognapping case. A former student of hers worked at the University of Toronto Forensics Science Summer Camp, and Polak visited to write an article for Maclean's.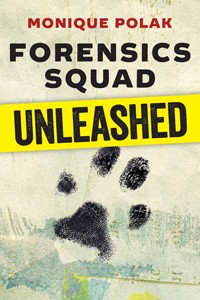 Forensics Squad Unleashed
Monique Polak
Orca Book Publishers
$9.95
paper
208pp
9781459809796
The book has lively, accessible details about using fingerprints, handwriting, and shoeprints to solve crimes. The spunky voice of Tabitha, the thirteen-year-old main character, opens the book: "Look, let's be honest with each other. I don't like you. You don't like me. And I really wish you'd quit touching my
Junior Encyclopedia of Forensic Science
." Polak calls Tabitha "nasty," but she means it in the best possible way. "That's fun for me because my persona in the world is like I don't let the nasty out that much. And one of the great things about writing is that you explore different parts of yourself, the unexpressed."
Her second new book, Leggings Revolt (ages 10–14), concerns how young people express themselves. Specifically, it addresses high school dress codes. On a visit to Heritage Regional High School on the South Shore of Montreal in 2013, Polak learned about a real dress code revolt: when the school tried to prohibit leggings, students, male and female, chose one day to show up in the banned attire. The story stuck with her.
In the book, Eric, a new student at Marie Gérin-Lajoie High School (an invented institution, named after the real Montreal feminist), gets involved with fighting a strict dress code that mostly targets female students. Daisy, a beautiful girl he has a massive crush on, is a prime offender.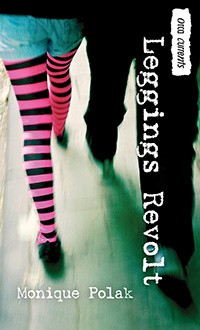 Leggings Revolt
Monique Polak
Orca Books
$9.95
paper
144pp
9781459811898
The book tackles tough issues, like freedom of expression and sexism, without oversimplifying or neatly wrapping them up. How should women dress? "I don't have a clear answer for it," says Polak. "I wanted to explore the complicatedness of the question." At one point in the book, Miss Aubin, assistant to the very strict principal and an ally of the students in their revolt, has a tough conversation with Daisy: "I'm all for freedom of expression, but I wonder if you've thought about the sort of image you present when you dress in a way that draws attention to your body." Daisy responds, "Why should I have to care about my image? Why don't you talk to the boys instead? Get them to stop looking at girls as if we're objects! … I only dress to be comfortable!"
"That's how I wanted to handle it," says Polak. "I didn't want it to be preachy at all. Because that's the worst thing you can do, as a children's writer." Polak says she's inspired by young people. "I appreciate that they're trying to figure things out. Because so many adults will not admit to that. I love the openness to the confusion," she says with a laugh.
This respect and admiration for youth comes through in her books, which is surely part of the reason for her popularity with readers, young and old. But Polak doesn't use special techniques to make her books easy to read for her young audience; she just tells her story. "I don't mean for someone to read [my work] and faint at the beauty of a paragraph," Polak says. Her style, she explains, is much like the literature from Holland – where her parents grew up – which she enjoys. "When I read Dutch stuff, I notice that the style is very straightforward. The story is the story. That made me feel good, it made me think, maybe that's somehow a storytelling that is in my blood."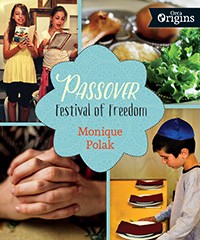 Passover
Festival of Freedom
Monique Polak
Orca Book Publishers
$24.95
cloth
72pp
9781459809901
Polak's third new book,
Passover: Festival of Freedom
(ages 9–12), is her first foray into non-fiction. She remembers the day editor Sarah Harvey called to ask if she would write it. It would be the first in a new series, Orca Origins, which examines ancient traditions in the modern world.
"I said, 'I want you to let me do it no matter what I'm about to tell you next.'" Polak then admitted she had never celebrated Passover in her own home. "I grew up with a very complicated relationship with religion, because my real connection to Judaism has been the Holocaust," says Polak. Her acclaimed book What World Is Left, which won the 2009 QWF Prize for Children's and Young Adult Literature, is based on her mother's experiences in Theresienstadt, a concentration camp in the former Czechoslovakia.
"Stories in the end are what I think matter most."
While Orca requested she include the history and present-day incarnations of Passover around the world, it was Polak's idea to bring in the Holocaust. "That's why I'm most proud of that book." Two Holocaust survivors provide vivid, moving details about how they celebrated the holiday before and after the war. Both were the sole survivors in their immediate families.
For the book, Polak spoke to many other Jews about Passover, and the anecdotes, recipes, and, importantly, good deeds bring the holiday to life. "This obligation to share, to do good, and to give what is called in Hebrew tzedakah is an essential part of Passover, and an essential part of the Jewish tradition in general." Polak hosted her first Passover last April, and intends to make it a yearly event.
Montreal plays a central role in all three of Polak's new books. "I wouldn't be able to write about a place I hadn't gone to. I have to walk there, I have to feel it, I have to smell it," she says. Montreal is also central to her position as inaugural CBC/QWF Writer-in-Residence, for which she is writing several articles for the CBC Montreal website. She's also helping define what the annual residency will be in the future. With many print writing opportunities drying up, Polak applied for the residency because she's seeking new homes for her stories.
In the residency she is exploring the stories we share and those we don't, including lies and secrets. Polak feels it's a responsibility and a privilege to tell the stories she comes across. "It makes you wonder, what other stories, all of us, are we the keepers of?" She gestures with both hands turned palm up, almost in supplication. "This is how I feel about stories," she says. "I go through life, I'm busy, I'm running around, I do too many things, but I always stop for a story. … If you care about them, they land." mRb