Jacques Filippi and John McFetridge have assembled an impressive roster of Francophone (most translated by Katie Shireen Assef) and Anglophone writers for Montreal Noir, the second volume in Akashic Books's long-running Noir series to feature a Canadian city. (Toronto Noir, edited by Janine Armin and Nathaniel G. Moore, was published in 2008.)
As per the format of the series, which began with Brooklyn Noir in 2004, each of the fifteen contributors sets their story primarily within a specific Montreal neighbourhood or area. Howard Shrier (Miss Montreal, 2013) vividly evokes the mid-century Plateau in "Milk Teeth," a grim police procedural about the murder of a young girl. Melissa Yi, author of the Hope Sze medical mystery series, has her hero hunting a possible sociopath in Côtes-des-Neiges. Robert Pobi (Mannheim Rex, 2016) plants his hard-boiled mobsters in Little Burgundy.
Of all the writers, Patrick Senécal (Il y aura des morts, 2017) makes the cleverest use of his setting. The protagonist of the twisty "Rush Hour" is a traffic reporter for a Montreal radio station who finds himself in a desperate race against time to stop a bombing. His only hope is to decode a puzzle the killer has made from the names of Montreal's streets.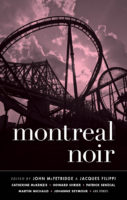 Montreal Noir
Edited by Jacques Filippi and John McFetridge
Akashic Books
$15.95
paper
288pp
9781617753459
Despite its title, there are few stories in the collection that share the fatalistic mood and dark, mournful atmosphere I most associate with noir, as typified by the work of genre masters like James M. Cain (
Double Indemnity,
1943) or modern writers like Megan Abbott (
You Will Know Me,
2016). The stories that do are among the anthology's best.
Brad Smith (Busted Flush, 2016) slowly builds a feeling of menace in "Coyote," which is about a woman named Joanna who leaves her Westmount home for her childhood farm in the Eastern Townships after the collapse of her marriage and the return of her father's cancer. As her father's health deteriorates, Joanna runs into conflict with a group of retired men who hunt coyotes for fun. A surprisingly insightful and affecting story, it is about repressed emotions, violence, and misogyny.
Arjun Basu (Waiting for the Man, 2014) takes a dream-like approach to the mystery story in "Wild Horses." A shoe store manager named Albertson glimpses a herd of wild horses galloping through the streets of Mile End. Basu keeps the reader guessing: Was it a hallucination? Why does everyone he talks to about the horses act so strangely? When Albertson wakes up in a pitch-black room beside someone who claims to also have seen the horses, we know we're in similar literary territory as The New York Trilogy, Paul Auster's postmodern take on the detective novel.
Like Yi, some of the writers use characters from their series in their stories. The most successful among them is "The Crap Magnet," by Peter Kirby, author of the Luc Vanier series. Kirby wisely chooses to set his story within the world of his series, but without a single appearance by his hero. Instead, he follows a hired killer on the run from Vanier hiding out on l'île Sainte-Thérèse. The story doesn't subvert any of crime fiction's more troubling character tropes, but Kirby tells the story well.
Unsurprisingly, given the unrelenting misogyny in the real world, violence against women drives the plot of several stories. Thankfully, about two-thirds of the writers avoid it, putting male mobsters, down-on-their-luck drug dealers, and even novelists within the crosshairs of their killers instead. "Other People's Secrets," by Tess Fragoulis, manages to avoid the depiction of violence altogether. It's a slow-burn thriller, reminiscent of Patricia Highsmith's Ripley novels, about a sociopathic psychologist's first day at work.
Filippi and McFetridge have done a fine job bringing together stories from across the many sub-genres of mystery: police procedural, thriller, private eye, psychological suspense, and hard-boiled crime. While the quality of the tales is similarly mixed, the avid crime fiction reader is sure to find a tale (or six) in Montreal Noir to suit their taste. mRb