All my life I wanted to roam
To go to the ends of the Earth
But the Earth really ends where you started to roam And you and I know what a circle is worth.
—From "Come a Long Way" by Kate McGarrigle
Sibling relationships are said to be the longest relationships of our lives. They usually outlast our relationships with our parents; they exist long before we choose our partners, and they're a generation ahead of the relationships we form with our children.
One of the best-known and strongest sibling relationships in Canada was that of Kate and Anna McGarrigle, members of the royal family of North American folk music. In addition to appearing on their own award-winning albums, their songs have been recorded by Emmylou Harris, Judy Collins, Billy Bragg, Linda Ronstadt, and Nana Mouskouri, to name just a few of their musical admirers. Before Kate died in 2010 at the age of sixty-three, the McGarrigles toured the world. They played Carnegie Hall seven times. In 1994, they were awarded the Order of Canada, and they won a Governor General's Performing Arts Award in 2004. All of this with the help of their older sister, Jane, who managed their careers for nearly two decades, co-wrote songs, and performed on tours across Canada, Australia, Europe, and the United States.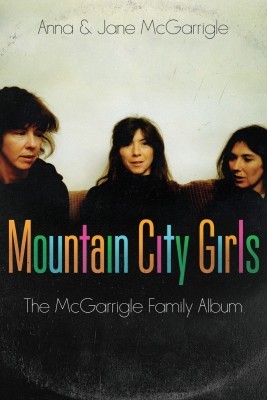 Mountain City Girls
The McGarrigle Family Album
Anna and Jane McGarrigle
Penguin Random House
$34.00
cloth
352pp
9780345814029
But
Mountain City Girls
, written by Anna and Jane, is not a retelling of the McGarrigles' career in music. Rather, it is a captivating account of what came before that. The book is a richly worded family history, reaching back three generations, and then focusing mostly on the McGarrigle family unit – Father Frank, Mother Gaby, and sisters Jane, Anna, and Kate. The story ends in the fall of 1976, just as Kate and Anna begin their ascent to international acclaim following the release of their debut album in 1975 with Warner Records. Like so much of the McGarrigle repertoire, this story is told in harmony: sisters Jane and Anna alternate taking the lead.
Having a dear sister myself, I was curious to know what it was like for Anna to have a relationship with Kate as a sister, a friend, a creative partner, and a business partner. She recalled, "From the beginning, Kate and I were very much a party of two. Early on our mother dressed us in matching outfits. I was pink and she was blue – she was the boy after all! […] Because Kate and I were a year apart we grew to depend on each other (like a crutch) and it stayed that way 'til the end. People got so used to seeing the two of us walking around Outremont and Mile-End that after she died I wouldn't go out alone in that part of town. I knew people were feeling sorry for me."
When I asked how writing these memoirs together changed their relationship to each other, both Jane and Anna agreed that the project brought them closer together. Jane replied, "I understand Anna much better than I did before. Because I was working with Kate and Anna (I was their manager) there was already a sort of adversarial aspect […] because you have to remind them to be at the studio on time, or whatever – and also, Kate and Anna lived together, wrote together, and for a lot of years they were sort of a unit. And, growing up, I wouldn't play with them – I was off doing my own stuff – and then I got married young, and was away. And then Anna was living in Alexandria [Ontario] and was in and out of [Montreal], and Kate was in the city, so I saw more of Kate. And I would get news of Anna from Kate."
Anna agreed. "Yes, through the Kate prism."
Jane continued, "It was 'Anna thinks this' or 'Anna feels that.' […] For fifteen years, I was getting to know Anna through Kate. Like 'well, Anna says that but she doesn't really mean it.' So, after Kate died, I was, just … really … not sure about anything."
"Yeah. It was sort of like 'well … here we are now,'" Anna added.
"Yeah," said Jane, turning to Anna. "And here we are."
Born into a family of mixed Irish and Québécois background, the girls spent their first few years on the island of Montreal, in Lachine, until their parents relocated the family to a small house their father was slowly building in the town of Saint-Sauveur, in the Laurentian Mountains about sixty kilometres north of Montreal. That home is a strong focal point of the book, and continues to be a place where the extended clan converges today. About it, Jane writes, "Almost seventy years later, the question could be asked, 'Why are we still here?' For we are still very much in the old family homestead, with its ghosts and memories that have infected our children and their children. We're clearly here because we need to be."
Mountain City Girls reads like a long visit to the McGarrigle family living room, where laughter is plentiful, wit is sharp, and stories are always on offer. Some of these stories are achingly funny, like that of enterprising grandpa Latrémouille's (failed) business venture making wine that turned out to have laxative properties. Some are heart-wrenching, like father Frank's sudden death. And some are wistfully tender, like a rare moment when mother Gaby is caught playing the piano – an indulgence she reserved for solitude. All of them are poignant and insightful.
Like that living room, the book is full of song, too. There are snippets of lyrics interspersed throughout the recollections, and especially in the retelling of Kate and Anna's rise to popularity in the burgeoning Montreal folk scene of the 1960s as members of The Mountain City Four. Later in the book, we are treated to the backstories of several of Kate's early songs, allowing us a glimpse into her creative process. Of course no cozy living room is complete without a few photos, and Mountain City Girls offers up a great collection of snapshots from family albums.
Of the book's inception, Anna writes: "I told Louise [Dennys, who suggested the project, that] I would want to do it with my sister Jane, whose turn of phrase I've always admired. In a way, I was carrying on what Kate had done when she'd asked me to join her in a musical career. She'd said to me, 'Anna, I don't want to do this alone.'"
Together, Anna and Jane have produced a stirring portrait of the McGarrigle sisters and the cast of characters who have shaped their stories. It is a necessary addition to the book collections of all folk music lovers. mRb